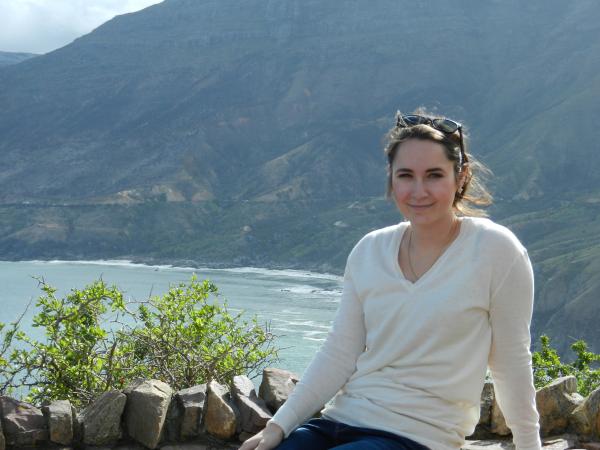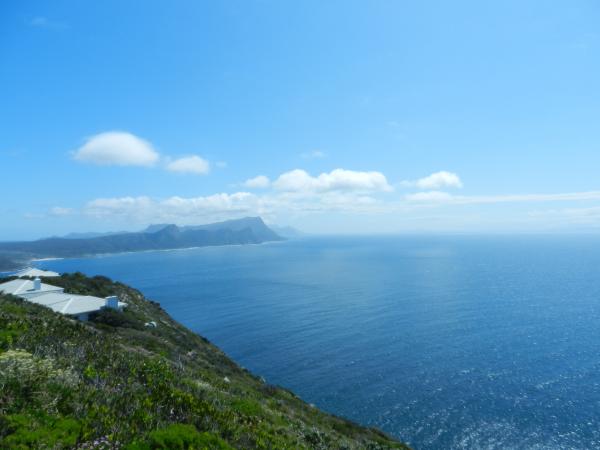 I didn't feel much jet lag until our second full day in Cape Town.  We started off early to head down the scenic coast of the peninsula.  We were headed toward the Cape of Good Hope, but had a few stops and sightings of these guys along the way.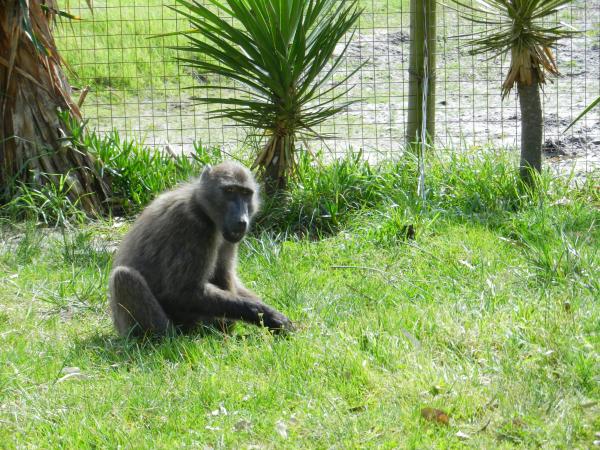 Baboons are common roadside pests in this area of South Africa and definitely not loved by the locals.  The baboons are protected animals in South Africa and it is illegal to touch them.  This is problematic for the unfortunate drivers who forget to lock their doors.  Baboons have become accustomed to human treats and break into unlocked vehicles to scavenge for food that has been brought along.  If you are unlucky enough to have a baboon find its way into your vehicle, you may be stuck for a few hours waiting for him to decide he's had enough.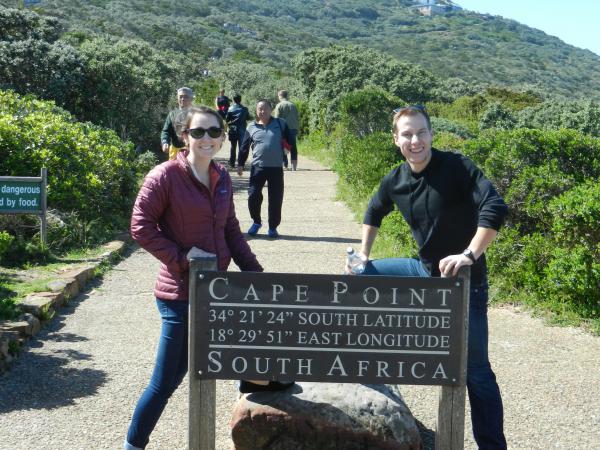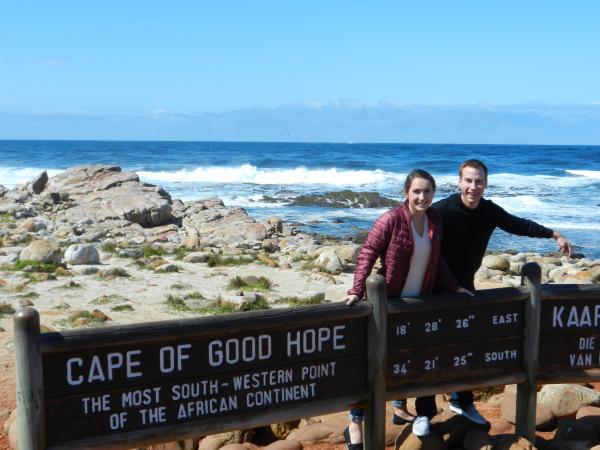 The Cape of Good Hope is commonly mistaken for the most southern point of Africa as well as the point where the Atlantic and Indian Ocean meet. It is actually the most Southwestern tip and since you cannot really define where two oceans meet, the spot is more symbolic than anything.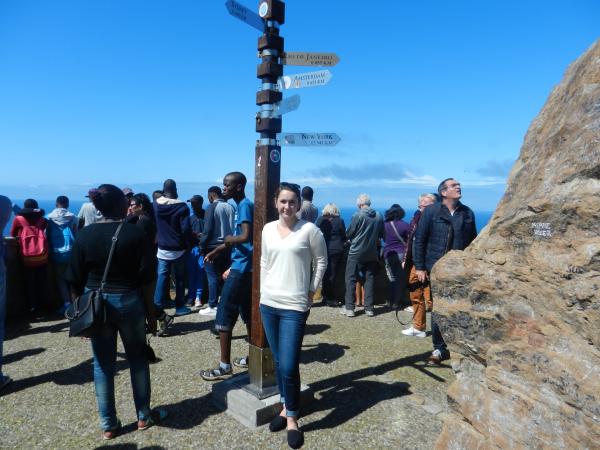 After walking to the top of the lighthouse at the Cape of Good Hope, we made our way further south to see our next stop.  In a small beach city called Simon's Town, we stopped to see a colony of penguins in a most unlikely spot. At Boulders Beach, a colony of African penguins has moved in right next homes along the shore.  In fact, to get to the beach you walk right in front of private residences before making your way to the boardwalk.
As you can see, these guys were having a bit of bad hair day from all the shedding.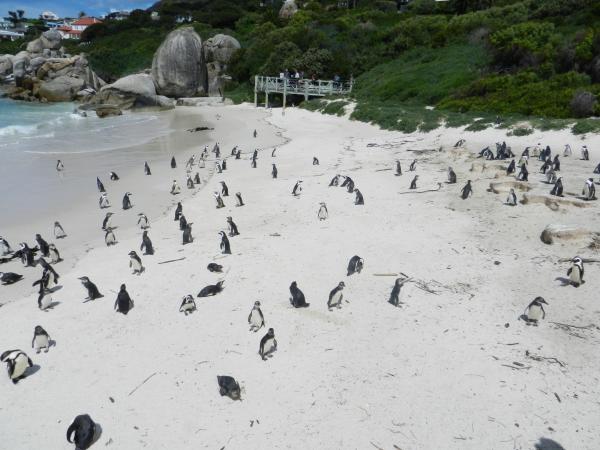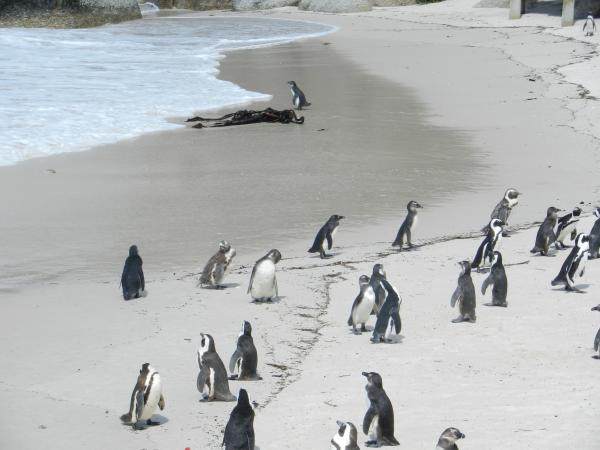 Being a bit of a foodie, I actually enjoyed our lunch break most.  We stopped to eat at a great restaurant called the Foodbarn in Noordhoek.  We had a little wine, a little fish and some delicious desserts to round it all out. It was a fantastic way to spend a slightly rainy afternoon before heading back into Cape Town.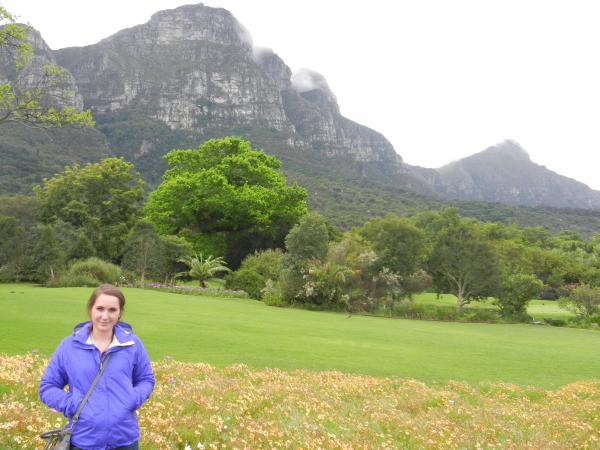 By the time we had made it back into Cape Town, the rain had really picked up, but since I had wanted to see the famous Kirstenbosch Botanical Gardens, we pressed on.  Probably due to the rainfall, the gardens were mostly empty, but no less beautiful.  I could have easily spent an entire afternoon, if not a full day, wandering the grounds.