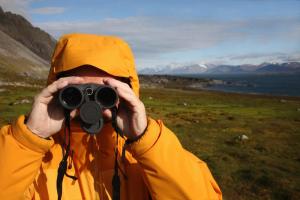 While on one of our adventures, you can literally trip over the wildlife if you're not paying attention! However, we can all use a little advice on spotting those elusive or skittish species. Having a great guide during your travels is always key, but here are a few other helpful tips to practice when on your wildlife adventure.
1. Get up early -- turn in late.
Dawn and dusk are when wildlife tend to be the most active, thus offering the best chances to spot your favorite wildlife creatures.
2. Know what to expect & where to look.
Understand the seasonal patterns of wildlife. Many species only appear seasonally in certain regions. Learning a little about wildlife habitat, feeding habits, and favorite foods can also help focus your search.
3. Move slowly and keep quiet.
The best way to increase your chances of spotting wildlife is to stop periodically and wait ... quietly.
4. Remember your binoculars.
Binoculars provide the chance to enjoy an up-close wildlife experience at a safe distance.
5. Be patient and persistent.
And remember, even if you don't spot the species you've been aching to see, enjoy the variety of other wildlife that cross your path during the pursuit.