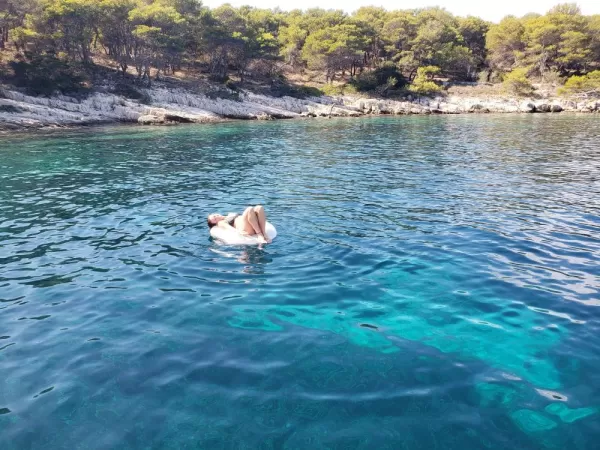 The sun came out today! We set off early from Korcula as the rain was coming in heavy, but this luckily seemed to clear up the weather the sun came out, so we anchored in a cove in the morning for a swim stop. Dipping in the Med waters was refreshing (chilly yes, but such that it took my breath away after the first jump). I swam around the cove and grabbed a mask to spy out underneath the black sea urchins and small fish I saw around the rockery. Others hopped on inflatables or a paddleboard to drift around off the boat. It was a lovely way to spend a morning and I think everybody was grateful the weather cleared for it. We were not sure if we would get a single sunny day by the forecast as of the start of the week.
We enjoy lunch still anchored and then sail across to Hvar Island on a water taxi where we then disembark in Hvar (our boat will meet us up later on the dock). Hvar is a much larger town than the previous ones, boasting a gorgeous waterfront, a large square, and a beautiful fortress on a hill. We go on a guided walking tour of the city before splintering off into our separate groups. We explore some shops on the hill and then I set off up the hillside to see the fortress atop. It is an impressive structure with intact towers and old turrets. Inside the fortress is an old prison (or dungeon) that is still intact. Definitely does not seem to be as kind of a prison as we have today. We go as well to spy out the theater building. Hvar is known for its strict separation of the nobility from the commoners, which was bridged with the first ever "public theater", or a theater opened to all classes together in 1612. The theater is intact and open for viewing today.
After wandering around Hvar, we find a beautiful restaurant on a terrace overlooking the bay and enjoy a Mediterranean meal as we watch the sunset with live music playing below. The city truly is magical, even breathtaking and you can almost feel as if you've been transported back in time to simpler days.