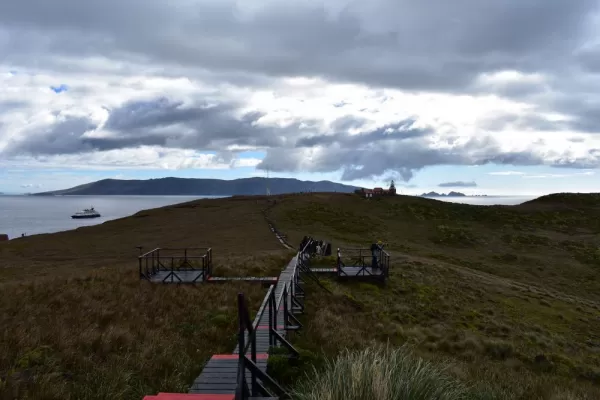 There are several Antarctic itineraries that include Cape Horn as a possible stop, but most are never able to make it there due to weather either at the Cape itself, or along the Drake, forcing the ships to rush the crossing to beat a storm. The Antarctic Express cruises make the most earnest attempt to land here, and we were lucky enough to be on a successful attempt!
Even when landings here are possible, the conditions are not ideal. There are usually strong winds, cold temperatures and rough seas that make the landing quick and not a highlight for many travelers. Well, the travel gods were smiling upon us, because our day at Cape Horn was GORGEOUS! The seas were flat, the winds were calm, the temperatures were perfect, the rain held off and the sun even peaked through at us a few times - our guides were beyond giddy! Most of them had never experienced a day such as this at the Cape!
We made our way to shore by zodiac (passing some Magellanic penguins merrily hopping in our wake) and climbed the never-ending staircase to the top of the cliff. From here, you could see the the path laid out before you. There was a single boardwalk making its way across the cape. At one end, a tiny church and lighthouse where the captain assigned to duty here lives with his family (YES - his FAMILY with children) for a year). At the other end, the monument paying tribute to sailors lost at sea.
We made our way from one end to the other, taking in the magnificent views, meeting the young boy who called this barren land home, and feeling the wind against our skin at the end of the world - standing in places very few had ever stood before.
When it was time to leave the Cape, our guides had one last surprise for us! The winds and waves were actually calm enough that they could take us in zodiacs to round Cape Horn! Something most of them had never done before! We piled in for the ride, discovering caves, watching birds and laughing at giant piles of sea lions fighting to be king of the rock at the very tip of the Americas. It was incredible!