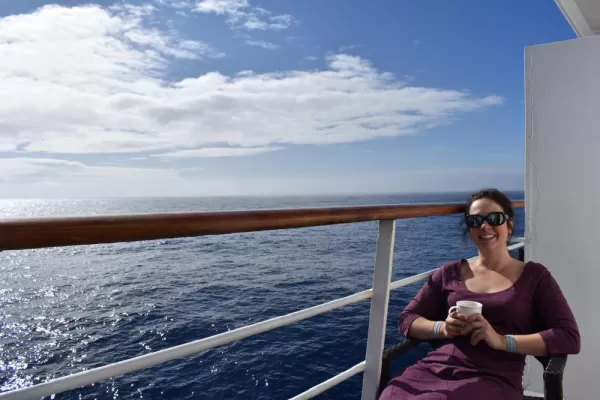 My last journey to Antarctica was filled with incredible storms and unrelenting seas. The guides do an amazing job of filling each day with lectures about the upcoming land you are about to explore, and the crew keeps you entertained with music performances, hilariously molded food, and other fun surprises. Unfortunately, I spent most of the journey sleeping thanks to using both the prescription patch AND over the counter medication to keep me from getting sick on the incredibly rough voyage.
As you can see from the photo above, the journey on this trip was quite a bit different!
I only took over the counter medication for this adventure, and was able to spend most days "sunning" out on our balcony with a drink in hand. The seas were calm, the sun was shining, and it was almost balmy compared to the snowstorm we left behind in Montana. My husband and I enjoyed lectures, movies, delicious meals, too much wine, relaxing naps and beautiful walks on the outside decks in the evenings to enjoy the sunset. Overall, it was not what you would expect for a trip over the dreaded Drake Passage! In fact, as a parent of a one year old on my first "escape" from parent-hood, the two days at sea might just have been my favorite days of the whole trip!