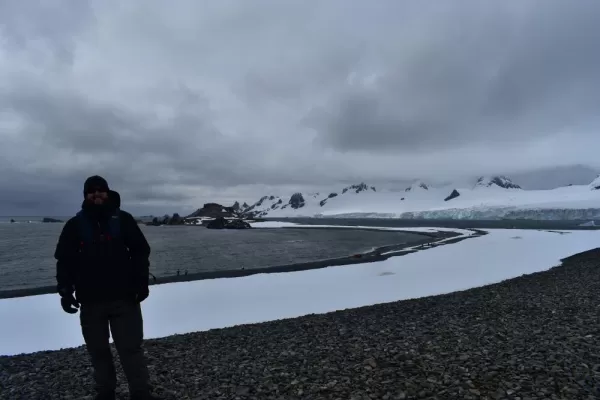 Our first official stop in Antarctica was at Half Moon Island. I visited this island during my previous trip to Antarctica, but only by kayak, so this was my first time on shore (and my husband's first time setting foot on Antarctica!).
We loaded into our zodiacs and headed to shore. They dropped us off on one end of the island and we then made our way by foot across to the other end. There were low-lying clouds that made the surrounding scenery look really spectacular - glaciers peeking out as the clouds shifted and moved - deep shades of blue, black and white surrounding us!
Once we arrived at the far side of the island, we were able to spend time in a rookery of chinstrap penguins. Though I saw them on my last trip, I saw them parenting and chasing around their chicks. This time, I had the chance to watch them in the hilarious process of nesting. We watched as penguin after penguin stole pebbles from their neighbors nest, bringing them to their own to build up their walls - only to have another penguin come and steal one of their pebbles. It seemed like such a fruitless labor - taking one, losing one, taking one, losing one, but it was entertaining to watch.
We hiked around to the different rookeries and then made our way down to the beach to relax and watch the penguins play in the waves. The nests were up on top of a tall hill (well, tall by penguin standards), and we could only imagine that their constant trips back and forth from the shore to the nest were exhausting (sometimes just to carry that perfect pebble...that will most likely be stolen as soon as it is in place)!
After a good couple of hours enjoying the "show", we made our way back to our zodiacs and returned to the ship where we were greeted with a wonderful "warm-up" drink, complete with alcohol!