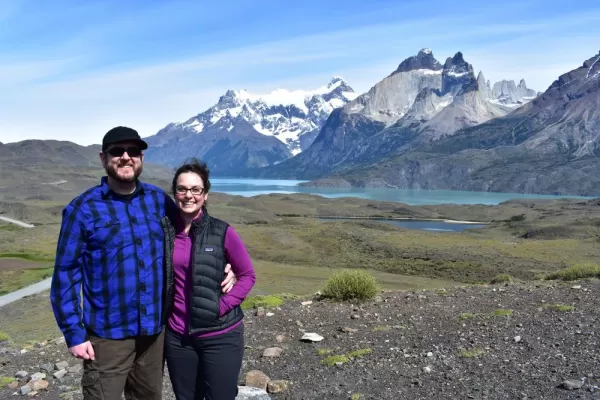 I'll be honest. Patagonia has never really appealed to me. I live in a beautiful valley in the mountains, and Glacier National Park is my family's weekend camping spot, so traveling thousands of miles to see mountains that looked less impressive to me in photos than what I see in my regular daily life just seemed silly. I know, I'm spoiled. But, I can only win the "where to vacation" argument so many times, and a trip to one of our top destinations was long overdue.
I was not impressed by the scenery in Punta Arenas, and as we made our way from Punta Arenas to Torres del Paine, the majority of the drive was through fairly barren land. Nothing spectacular. Then, as we hit Puerto Natales, everything changed. There were mountains shooting up out of the water (something we don't have here in Montana) and as we continued north, Torres del Paine's famous Towers began to loom on the horizon.
As we spent the next full day exploring the National Park, our guide took us to amazing hidden lookouts - away from crowds and onto cliffs where we could see majesty for miles in every direction. In the end, I had to admit, the photos of Torres del Paine do not do it justice. There is certainly beauty and majesty there that is worth flying thousands of miles to see!