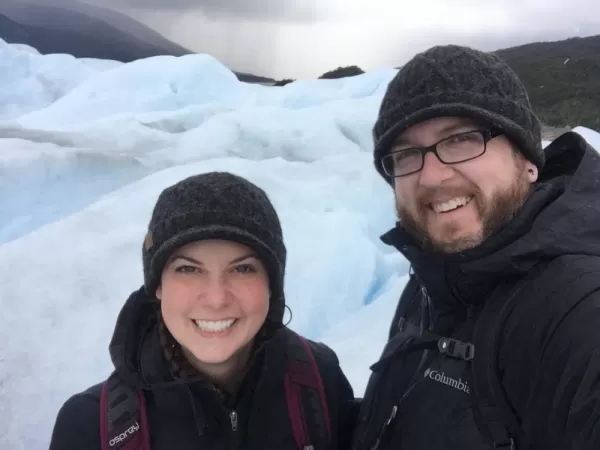 Our day on Perito Moreno Glacier reminded us that it is best to always be prepared! Something we were careful of in our early traveling days, but have gotten more lazy about with age.
As we packed our backpacks for our day on the glacier, we basked in the sun that streamed in through our open windows in our room in El Calafate. We enjoyed the views of the blue sky over Lake Argentina and then headed downstairs to meet our guide.
The further we drove from sunny El Calafate, the darker the skies grew. About an hour out of town, there were only looming, dark storm clouds as far as the eye could see. And then the rain began. Did we have full waterproof gear in our suitcases, ready to protect us from the worst kinds of inclement weather? Absolutely! Did we choose to leave those at the hotel and instead wear clothes that were heavy, thick and would take forever to dry? We sure did!
While our day hiking on Perito Moreno Glacier was definitely a wet one, it was still amazing. To see the beauty of the glacier up close was fabulous. To peek into seemingly never-ending crevasses and admire the deepest shades of blue was an experience absolutely worth having - rain or shine! We will just be sure to tuck that rain gear in our backpacks next time...just in case!