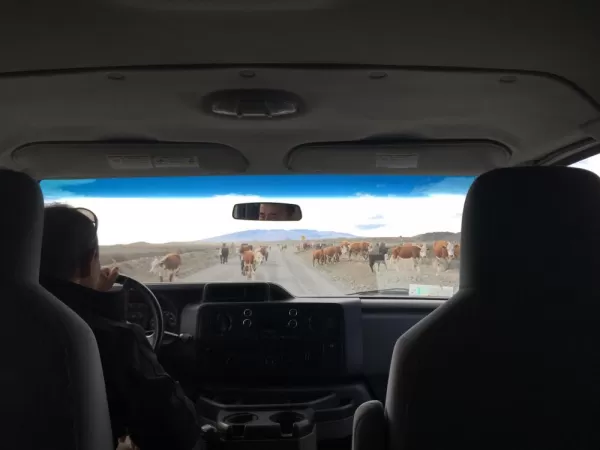 The border crossing from Chile to Argentina was one of the strangest I have ever made in my life! Our journey began at Las Torres where we loaded into our van with our driver who spoke very limited English. We picked up another traveler at EcoCamp and then made our way to the border. There are 2 stages to crossing the border: Leaving Chile and Entering Argentina. To leave Chile, we stopped at a tiny little building that had 2 rooms - the first was a Customs/Immigrations office, the second was a convenience store. We used the restroom on the convenience store side, and then went to the Customs side with our driver. He filled out a bunch of paperwork and we left - no one said a word to us and we did not have to do a thing.
Then, we drive for a little less than 10 miles in "no man's land" - this barren strip of nothingness that is not claimed by Chile OR Argentina.
Next, we pull up to a solid cement building with no windows, just 2 open doors. There is a line about 50 people long on one side, waiting to exit Argentina. We walked in the other side and were greeted by a little black pug! As we pet him, our driver walked up to the table, filled out some more paperwork and we left. Again, no one said a word to us. Our bags were not inspected, we signed nothing, did not have a chance to declare anything, and gave no prospect of when we would be leaving the country.
We were loaded back into our van and driven another mile to an empty gravel lot on the side of the road in Argentina. Argentine drivers are not allowed to work in Chile, and vice versa, so here, in this weird kidnapping sort of exchange, our bags were thrown from one van to another, the drivers shook hands, we were loaded into the new Argentine van and then were off for our adventures in Argentina.