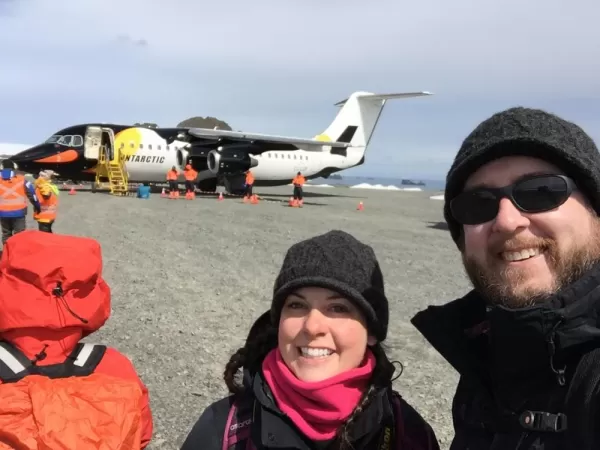 On our final morning, we were informed that the Russians had granted us permission to land at their base. So, for our final disembarkation, we took zodiacs to shore and had about an hour to spend on the Russian base before our walk to the Chilean base to catch our plane.
On the Russian base, there was a giftshop the size of a bathroom where you could go and buy a tshirt or sticker and you could have your passport stamped for a small fee. There was also a tiny church up on the hill that you could visit. Apparently, this tiny church was the entire reason some people went on this trip! It was part of a mission for their church back home!
After the hour, we all met and began the walk across King George Island. There is a gravel road that connects the Russian base and the Chilean base, and it takes about 15-20 minutes to walk it very slowly in all your gear.
Once at the Chilean base, we waited around outside for the plane to land, bringing in the next set of passengers for the ship. Then, we were off. New passengers to one side, departing passengers to the other, we walked along the gravel runway towards the little plane that was painted to look like a penguin. We were given the "all-clear" and loaded into the plane. There were no assigned seats, so you chose where you wanted and settled in.
They served us a light lunch of sandwiches as we took off and watched Antarctica disappear beneath us - a site only a few in the world can say they have ever seen! After making the trip 3 times now by Drake Passage, a two full days at sea each time, it was amazing to be back in Chile in about 2 hours!