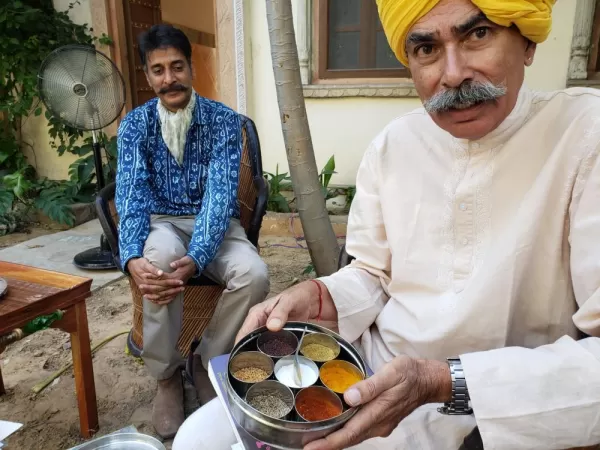 Today we spend the morning at leisure, which was so nice. The pool at Samode Haveli is so nice and inviting, but unfortunately, I don't wake up in time to even take a dip! We enjoy a very late breakfast in the open-air restaurant and admire a puppeteer putting on a show with his handmade dolls of Mangowood.
Next, we head to visit the City Palace and the observatory next door. The palace is still actively used today by the king's family. When British rule took over, many maharajas decided to cooperate and were able to keep loving their palaces. The royal family still lives there today. We go inside to spy out a few rooms still open to the public: the silver room (or reflecting room), the gold room, and the cloud room across from the temple he had built. Next, we walk over to the observatory and learn about the great lengths he went to in order to learn about cosmology from all over the world. So much so that the world's largest sundial is built here, accurately down to every 2 mins of Tom during daylight hours.
After the City Palace, we then travel to Dera Mandawa, a local aristocratic home for Mr. Durga Singh, who now operates the property as half residence, and half guesthouse for tourists. He shares with us the story of his great-grandfather and his coming to participate in court for the Maharaja and choosing to stay and build this great Haveli. He invites us to come to learn to cook some authentic Indian recipes, and shows us how a few dishes are completed, including paneer, chicken garam masala, and rice. We watch him roast chicken over a fire started by cow dung, and over a low-load fire on the coals. After some time interacting and learning from him, we return back to our hotel where we head in for massages from the local hotel staff, and then call it a day.