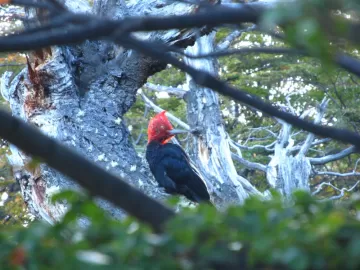 The distances are vast in Patagonia. The only real commercial airports with daily service are in Punta Arenas, Chile and El Calafate, Argentina – at least six hours apart. But there are actually multiple ways to get from one major destination to another.
If arriving in Punta Arenas, most all-inclusive accommodations in and around Torres del Paine will provide transfers all the way from Punta Arenas to the park. Most will also connect to El Calafate, on the Argentine side of the border. These transfers can be by van, or by coach bus, or a combination of both.
Travel between El Calafate and El Chalten can take many forms. There are private transfers in small vans, or "shared door to door" transfers in mini-buses that will pick several parties up at various hotels in one city, and deliver to multiple different hotels in the other city. Alternatively, there are large and very comfortable coach buses that can be arranged. While the coach bus is certainly the most comfortable ride, the logistics are a little more difficult, as it does start and end only at a bus station.
Personally, I enjoyed all three methods of travel across the long distances in Patagonia, and found all of them to certainly have their benefits.