While Torres del Paine has become more famous, and therefore more visited, the Fitz Roy Massif is no less dramatic.  Tall spires, high lakes, fracturing glaciers, and a looming presence make this mountain range well worth a visit – particularly for folks who enjoy a good hike.   The trails are in superb condition and well-marked.  And unlike the "Base of the Towers" trail in Torres del Paine NP, one doesn't have to reach the very end of the trail – 7 miles in, and 2500 feet up – to enjoy tremendous views.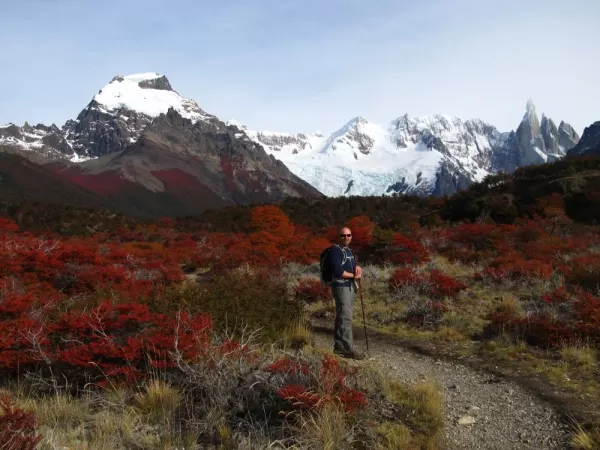 There are three main trails leading directly from El Chalten:
 Laguna Torres   -   a long, but relatively flat hike along the valley of the Rio Fitz Roy, with amazing views of the Fitz Roy Massif in the distance.  Once at the lake, views of glaciers and mountains and those iconic spires rise above you.  To reach an additional viewpoint, continue on the trail  north and west above the lake.
Laguna de los Tres   -   accessible from town, or via a shuttle to El Pilar, this trail begins with gentle climbs through beautiful forest, with sporadic views upwards towards the Fitz Roy.  Then once at Poincenot Camp, the trail begins climbing much more dramatically, zig-zagging up a steep hillside, and eventually reaching a ridge where – if you are lucky – you will have the most amazing views of a bright blue lake, white glaciers, and layer upon layer of huge spires reaching toward the heavens 
Pliegue Tumbado  -  a lesser-known trail that climbs steadily through forest and pasture, ultimately reaching treeline.  From here, keep ascending through talus and alpine tundra to one of two fabulous viewpoints, from which you can look out across the entire Fitz Roy Massif – Cerro Torre, Cerro Fitz Roy, Laguna Torres, etc.  You also have views back towards Viedma and the open grasslands of western Argentina.
For anyone who enjoys hiking in the mountains, three full days of hiking in the Fitz Roy range should be a minimum.  And if you have the time to build in a bonus day, the weather gods may smile upon you with additional views.