For most folks, a stop in El Calafate is a logistical requirement for their Patagonia adventure.  It is the airport most folks will travel through in order to access the Argentine side of Patagonia, and it is a perfectly-good access point for Torres del Paine, as well.  A very strong contingent of these travelers who use El Calafate as a hub will also spend a day visiting the Perito Moreno Glacier in some manner – with a short boat ride, or a short hike… or with one of the various ice-trekking options that will get folks on top of the glacier itself with crampons.  But are there other destinations nearby that are also worth a shot?  I was determined to find out.  My wife and I have walked on glaciers in New Zealand, and I even spent ten days sleeping and working on a glacier in the Transantarctic Mountains many moons ago.  So I felt alright forsaking the Perito Moreno and seeing what else I could find. 
We opted for a longer boat ride to the Upsala Glacier and Estancia Cristina.  As we came closer to the Upsala itself, we were awestruck by the size of the icebergs that had broken off of the glacier, still a mile or more off in the distance.  We were on a ship that held 80 passengers, and the icebergs towered over the boat, while also stretching longer from one end to the other than our ship.  And the colors!  The deep blues and crisp whites were astounding.  One iceberg after another, the ship would slow down for the chance at photos, and we'd keep clicking away.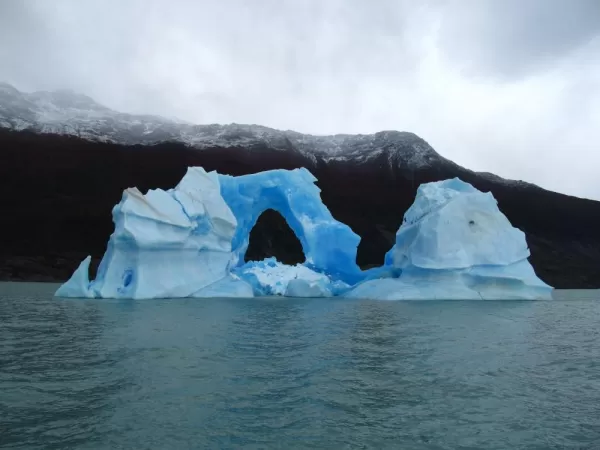 Upon arrival at the Estancia Cristina, we took a rough 4x4 ride to the top of the hill and a panoramic view of the Upsla Glacier – the first time I was able to really get a handle on just how large the Southern Ice Fields actually are, and how there are these giant tongues of ice  - Perito, Upsala, Grey, Viedma, et al – trickling down out of the mountains into the surrounding lakes and countryside.  We were also able to tour the old sheering sheds, and learn the history of the eccentric old family that had homesteaded this incredibly remote corner of Patagonia in the early 20th century.  You will have to trust me that this historical tour was far more interesting than it would ever seem like it could be.
Estancia Cristina is actually available for overnight accommodation.  Because of the 2.5-hour boat ride back to town, it is not a good option to use as a base from which to visit Perito Moreno or other nearby attractions.  But it is certainly an interesting trip unto itself, with further options for horseback-riding, hiking, etc.  A remote and beautiful respite from El Calafate's "hustle-and-bustle" for a few nights.