The Serrano River flows southwest out of Torres del Paine National Park.  This river drains most of the park, but with the exception of one large Class VI rapid that must be portaged, the river is flat and relatively calm – ideal for a multi-day float from the west edge of the national park all the way to Last Hope Fjord.  (Ultima Esperanza)
Most folks do this trip in three days. But on the day we were set to begin, the wind was whipping at 80 kilometers per hour.  Our guides arranged an additional night of accommodations for us, and set our departure for early the next morning – with the plan to cover two days' worth of river in one long day of paddling.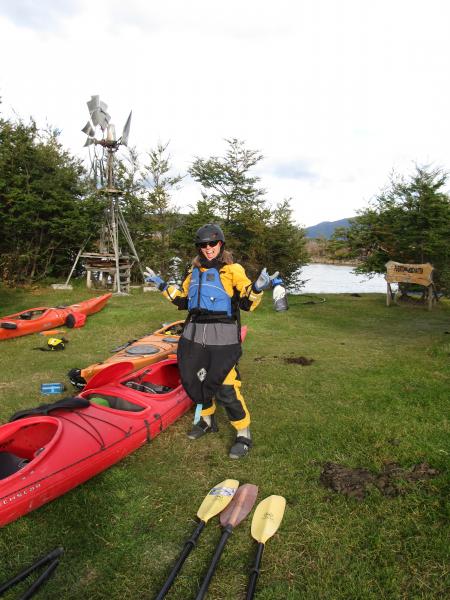 With calmer winds the next morning - and clear, sunny skies – we donned dry suits, packed up our gear, and set out in a two-person sea kayak.  We spend a lot of time on the rivers here in Montana, and enjoy some fabulous views.  But the combination of the Paine Massif in the distance, multiple sinewy glaciers  pouring off the Southern Ice Fields along the way, and the colorful trees along the shore were a sight to behold!
Where the Rio Grey joined the Rio Serrano, we enjoyed the drastic color differences between the waters of the two rivers.  And as we entered the upper stretch of Last Hope Fjord, we again began to notice the difference in the color of the water, as the silt from the glacial rivers begins to slowly settle out.
Having spent the night at a flat bit of land at the base of the Serrano Glacier, we portaged the boats up to Laguna Serrano for a tour of the glacial lake.  The Serrano Glacier could easily be seen at the far end of this small lake, and we embarked in our boats just a few meters away from several dozen icebergs that had fallen off the side of the glacier and wandered their way in the breeze to this end of the lake.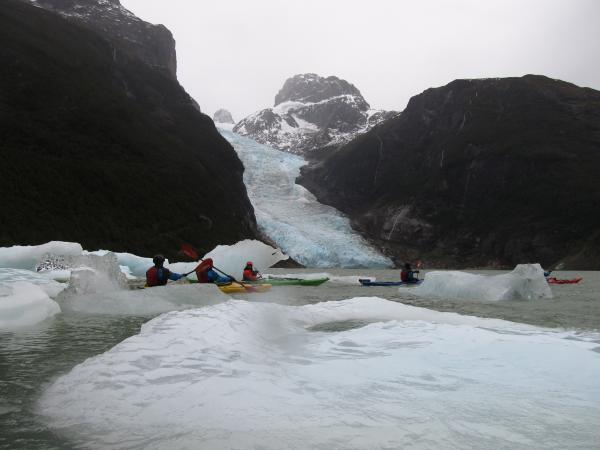 At the end of the morning, a ferry arrived to take us the full length of the Last Hope Fjord, all the way back to Puerto Natales, where a warm bed and a great meal awaited.