Ah, the age-old question…  Is it better to save a little money and secure a Standard Dome at EcoCamp, or spend the extra and enjoy all that a Superior Dome or Suite Dome will offer.  (Heat, electricity, an ensuite bathroom, and more floorspace, to be specific.)  Having spent one night in a Standard Dome and four nights in a Superior Dome, I am happy to set the record straight…
For folks who are off to do the W Trek, the Standard Domes are probably adequate.  For folks who need to keep the budget a little friendlier, they are certainly an option.  There is plenty of cozy, heated space in the community domes – the bar, the restaurant and the map lounge – so you won't have to spend a lot of waking hours in the Standard Domes.  But know that they are smaller, colder, and a few dozen steps down a wooden pathway from the nearest bathroom.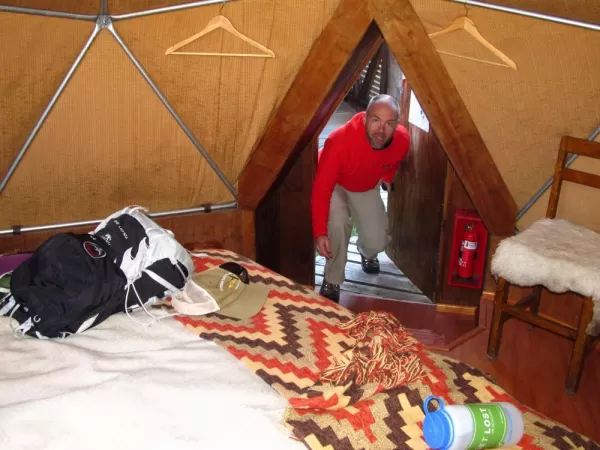 Standard Domes do have a ton of quilts and blankets.  You won't be cold when you are sleeping.  But getting out of bed early in the morning – or to take the walk to the bathroom - will be hard with no heat.  And in this place more than most others… you will want to get out of bed early!  The red glow on the towers at sunrise is only visible if you manage to get up out of bed… and it is definitely worth the effort!
My recommendation?  Arrange for a Superior Dome or a Suite Dome, if you have the budget flexibility, and if you will be spending multiple nights in a row at EcoCamp.  You will certainly appreciate the ensuite bathroom and the electricity.  Yes, the larger floorspace and the increased area to hang one's wet clothes will be appreciated.  But mostly… the heat is well worth it – particularly the closer you get to shoulder-season (October, November, March, April)!