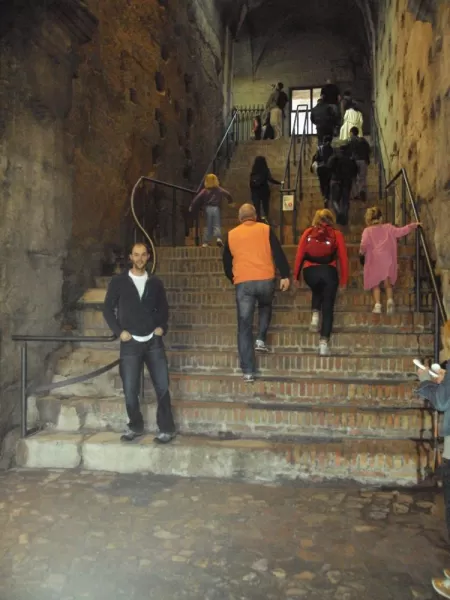 Today we are in Valencia. This is where I studied and lived for 3 weeks exactly 10 years ago. I can't believe I am here again. Since I am familiar with the city and want to catch up with my host family, this where we are disembarking.
We call my host family to make sure we are still meeting for lunch and then head for some shopping. My wonderful husband waits on a street side bench while I shop. I have been waiting for this all week. It is however, to buys clothes for when after I am pregnant while I am pregnant. Oh well can't return them!
We decide to figure out our plan for getting to our next destination so we make our way to the train station. We are relieved to find there is a night train to Granada this evening and that we can store our luggage in lockers.
Aaah it is so nice to be free of our luggage after wheeling them all over the city. We make our way to my host mom's new house. It is so great to see Mercedes again. She hasn't changed a bit. Well her hair is a little longer but she is still beautiful. I am so excited for her to meet my husband and to show her pictures of our son.
She has made my favorite all time Spanish dish; Paella. I am so excited I can hardly wait for it to be done. Her son joins us for lunch which is great. He is our age and we enjoy getting his take on the economy and the ''crisis''. It is interesting to watch him and his mom argue. It is the same disagreement the young and old have here in the states. They converse only in Spanish and I find myself doing a lot of nodding and also trying to remember how to speak Spanish. We make it work.
After lunch it is time for siesta but we really don't have a place to siesta. So we sit in the living room and watch a Spanish soap opera. While it is so weird to me, it is also nice to just spend time with my host mom.
Once we say our goodbyes we are on foot again. We decide to walk around the city as we make our way back to the train station. I tell Kurt about my school, where we us to meet up to go out and try to navigate from memory (he is much better using the map). We even find my old apartment and I am taken back to when I studied here. When I was here those many years ago, my one dream was to come back with the love of my life to share that piece of me. And here we are walking the same streets I walked so many years ago. I can't believe it.
We have to get back to the train station by 9 to get our luggage. Our train doesn't leave until midnight. So we have a lot of time to wait. Luckily there is one cafe that remains open. We take up residence drinking cafe con leche until they kick us out because they have to close.
Next it is time for the train ride. I am so excited to get warm and to get some sleep. Ha! Just as in the states, there are really nice buses and then there is the Greyhound. When I was in Spain 10 years ago, I rode on some very nice trains. The night trains, are the Greyhounds of trains. It is cold, our seats don't recline, it is dirty and smelly and very noisy. It is going to be a long ride! But hey I am on vacation and could be working.
Travel tip: Dreams do come true (and trains can also be inefficient and dirty)