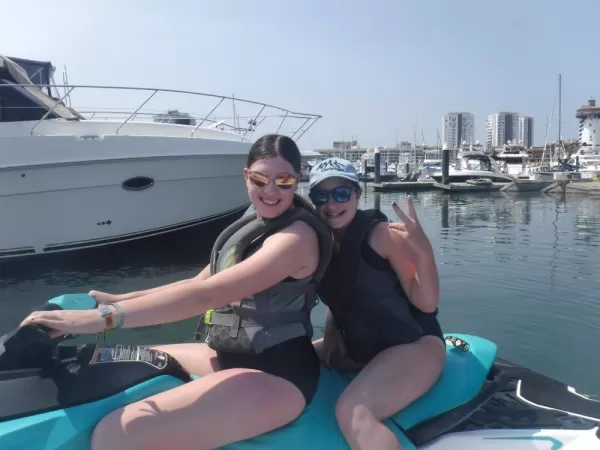 Travel should always include discovery.. discovering other cultures, new foods, new activities or even self discovery. For my two girls and me, this was our favorite day of the trip because we discovered a new activity that we all adored... jet skiing! I tried to impress upon my 12 year old how lucky she was to get to try this exciting sport as a preteen when I had waited 47 years for the opportunity!
I opted for a tour rather than renting on our own as I didn't want to get stranded on rented equipment in the middle of the ocean and not know how to get back. As it turned out, operating with the jet ski was even easier than the ATV so I needn't have worried, but it was still a nice luxury to have the guide tow us out of the marina so we didn't have to risk hitting the fancy yachts in the harbor or figure out how to park!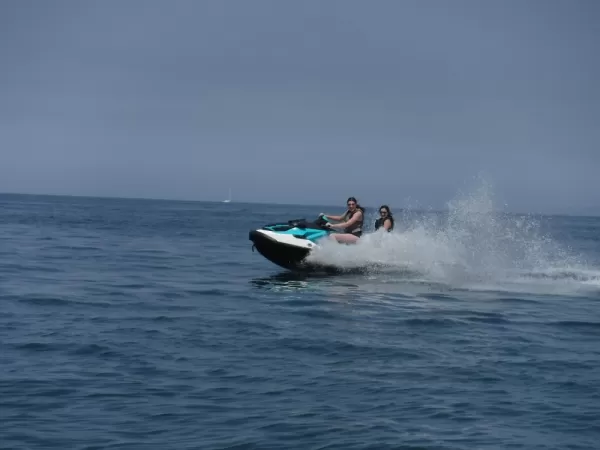 We jet skied across bouncing ocean waves at speeds faster than I drive my car. The guide told me that the speedometer read in miles, but when I hit 84 trying to catch up with the guide and my two girls, I really hoped he was mistaken and it was actually kilometers!
We took a break on the other side of the bay next to some rocks and the guide brought out snorkeling gear to ask if we wanted to give it a try. Never ones to say no, we hopped in the cool water and, within 3 minutes, saw a giant sea turtle, my eldest daughter's favorite animal. If the jet skiing weren't enough by itself, this was the icing on the cake and she spent the rest of the day (and entire trip) raving about how this had been the best activity ever. I have to agree that there isn't much better than cruising the waves on a jet ski with water lapping your legs across the open ocean.