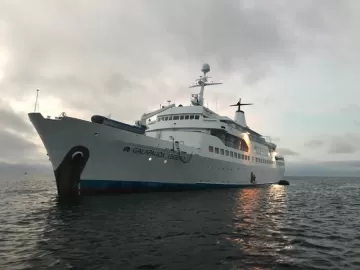 Going into this Galapagos trip, I thought for sure that I'd have a strong preference for a small vessel, something in the 16-20 passenger range. Quaint and cozy, where everybody knows your name. After my cruise on the 100-passenger Galapagos Legend, I now see major advantages to both and was surprised by how much I loved a larger crowd and more room to roam on board. In the cruising world, relatively speaking, a 100-passenger ship is still quite small! But for some travelers who wouldn't necessarily want to identify as a "cruiser," it can sound like an intimidating leap in size.
Large ship misconceptions. Let's clear the air, shall we?
Bigger groups? Not at all. Since the Galapagos National Park service enforces a strict 1:16 guide-to-passenger ratio for all guided services, each ship will have an appropriate number of naturalist guides on board in order to not exceed this ratio.
Long wait times? Not to worry! On the Legend, we were always summoned to the disembarkation area by groups - rotating the order in which we were called - and the process from start to finish would take about 10-15 minutes. This didn't eat into our time for excursions, and we were never standing around waiting. Remember, these cruises are offered year-round, and the crews have it all down to a science.
Crowded excursions? Nope. The guides do a great job of starting in slightly different locations so that the groups aren't on top of each other, competing for space and air time. If you're on a smaller ship, you can expect to see a few other vessels at your landing sites in order to maximize the number of travelers that can be in a location at one time. The larger ships will usually max out that particular landing site, so you're rarely landing with other ships nearby.
Would a bigger boat be the right fit for me?
If you're seriously worried about seasickness, a larger ship is definitely something to consider.
If you're an older traveler with more limited mobility, the larger ships will often have more amenities on board to make your experience more comfortable. Most ships over 40 passengers will have a doctor on board (the Legend did), and the Legend always had the glass bottom boat ready to go for travelers who weren't comfortable with snorkeling in open waters - a great alternative!
If you're looking for a few more creature comforts - fitness center, lounges, bars, pools, libraries, hot tub (all of which the Legend has) - a larger vessel might be for you.
If you're stressed out at the thought of sharing each excursion and meal time with the same 16 travelers, you might enjoy the ability to meet more people and/or blend in with your surroundings - nothing wrong with a bit of anonymity when on vacation!
If you're a large family traveling with young children, the larger ships will usually have more options for triple cabins and interconnected rooms.