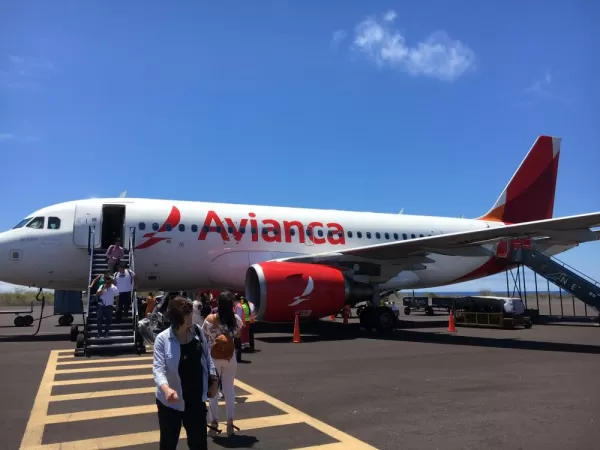 The Galapagos Islands are located 1.5 hours by direct commercial flight from mainland Ecuador. A lot of travelers don't realize just how remote the islands are! For any remote destination, the logistics of coming and going can be quite involved. Then add in the factor of the Islands being very closely regulated for conservation, and you've got yourself a recipe for not only a big investment of time, but also some red tape to be aware of. I'll break down what you need to know here:
- Galapagos Transit Card. Also sometimes referred to as IGALA card or TCT. Essentially just a $20 visa-like document that is required for all visitors to the islands. You can purchase these at the Quito or Guayaquil airports on embarkation day, or have your travel agency or ship operator easily coordinate them ahead of time to save you an extra line to stand in.
- Park Entrance Fee. $100 for adults or $50 for children under 12. Some ship operators or lodge-based programs will arrange for this entrance fee ahead of arrival, but regardless you will need to budget for this fee. If not pre-arranged, you'll want to bring cash to pay for the park entrance as you go through customs upon arrival in the Galapagos.
- Quito or Guayaquil? All land & cruise programs will start and end in the islands, so a flight from mainland Ecuador is required. These will depart from either Quito or Guayaquil, and you'll likely need to spend at least one night in one of these cities. You can fly into either city for your international airfare, though if wanting to spend a day or two exploring before the start of your Galapagos program, there's a bit more to do and see from Quito - Otavalo market, Cotopaxi volcano, Papallacta hot springs, Mindo cloudforest, to name a few. If you're nervous about the elevation in Quito and don't have time to extend your trip, Guayaquil works great too! The flights from Guayaquil to the Galapagos are always direct. The flights from Quito to the Galapagos almost always have a quick stopover in Guayaquil - 30-50 minutes to pick up new passengers while you stay on the plane.
- Internal flights. Since the itineraries in the Galapagos run on pretty strict schedules due to the national park permits, you'll want to book the flights suggested by the lodge or ship operator, in order to arrive with the rest of the group and not risk missing your embarkation or group transfer. The flights are a bit more expensive than what you might be seeing in independent searches, but it's not worth the risk of missing embarkation to save $75 per person. Believe me, it's expensive to catch up with your ship!
If you're willing to invest the time and money to visit the Galapagos, it won't let you down.