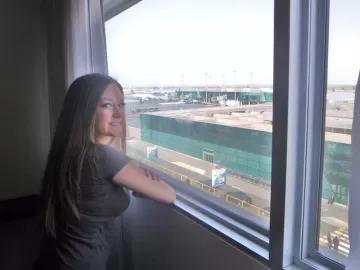 I am traveling to Peru with fellow Adventure Lifer, Ashley Bailey. We start our trip with our flight to San Francisco being delayed by an hour and a half. That's an hour and half more that we could have slept in. Bummer! We eventually board the plane and even make our connection in SFO. The icing on top of the cake: our bags make it with us.
We couldn't believe how great our flights on LAN Airlines were. Two square meals, free movies, free drinks AND great service. Maybe they should start a training program for US-based airlines.
We arrive in Lima late at night and are happy to see that the hotel is literally across the street from the Lima airport. We pass through customs, pick up our bags and walk the 20 feet to our home for the night: Ramada Costa del Sol. The hotel has been newly redesigned and everything feels clean and modern. We enjoy our welcome drink (Pisco Sour) at the bar and turn in the for the night.