After enjoying a beautiful dinner - where I tried crocodile - we made our way to our rooms to pack for the river trip. Really, all we needed were bathing suits so it was pretty simple getting ready. I could hardly sleep that night, knowing the next 5 days we would be rafting the mighty Zambezi!
First, before meeting up with the river group, my dad and I fit in one more early EARLY morning tour. We decided to do a walking tour with Rhino's. We knew that we were not going to be able to see Rhinos in Botswana, so we took our only chance to see them..at 4 AM. We went to the Mosi-oa-Tunya National Park, located about 20 minutes outside of Livingstone, and spent the morning with five amazing creatures.
We got back to the hotel just in time to meet up with the group. After a quick breakfast, we were on our way to the put in of the Zambezi! We got out of the vehicle at the entrance to the falls. After picking out our gear, we stumbled down to the bottom of the Batoka Gorge. While we clumsily made our way down the path, the porters ran, in flip flops, carrying pounds of gear. It was pretty amazing to watch these porter haul our boats, food, and more down this steep path. The porters are very important to the multi-day scene, as they are whitewater guides in training. For a very small cost, they are able and eager to help. Whitewater guiding is a sought after job in Zambia, as it pays well and has a good schedule. Because of this, porters are encouraged to work, whether they are carrying your raft or just your life jacket.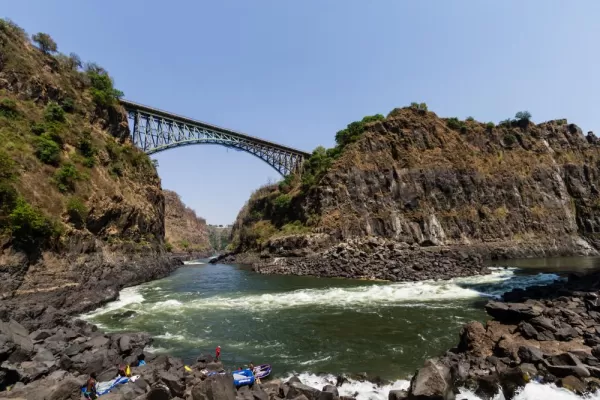 We arrived at the rafts in time for the safety speech delivered by our lead guide, Diego. Most of the speech focused on flipping and swimming, as both are highly likely to occur on this river. I tried to listen, but all I could do was look at Rapid 1. There was so much water pushing up against the river-left wall, that I could hardly imagine getting a boat cleanly across. I could see it now..carnage on the first rapid. To restore my faith in the river gods, Diego handed out Nyaminyami necklaces to everyone. Nyaminyami is the Zambezi Snake Spirit, who is believed to protect people and give them sustenance in difficult times. With the newly acquired piece of jewelry hanging around my neck, I was ready to rock.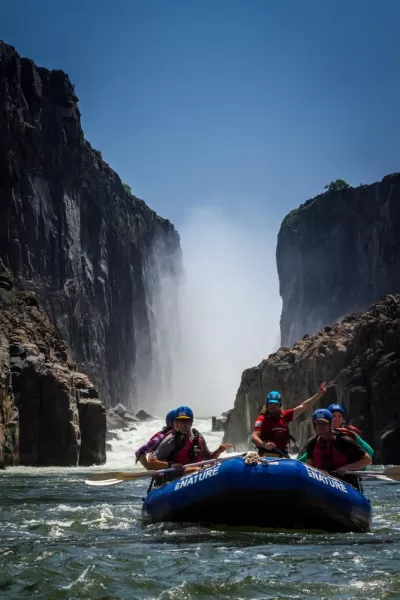 We charged across rapid 1. With an awesome high-side, we made it across just fine. I was all antsy to get paddling, but first we had lunch. This was no ordinary lunch, but a fancy spread located right underneath Victoria Falls. While lunch was being prepared, I wandered off to check out the minus rapids, which are located just underneath the falls. These rapids are not runnable by rafts and only a few (crazy) kayakers have successfully made it down this stretch of river. Looking out over the 75,000ish CFS swirling and churning below me,  I touched my Nyaminyami and screamed in excitement. I was surrounded by my favorite things...a raging river, a cushy raft, rainbows on rainbows, and great people.  We hadn't even started running the river, but I wondered to myself, could life get any better?