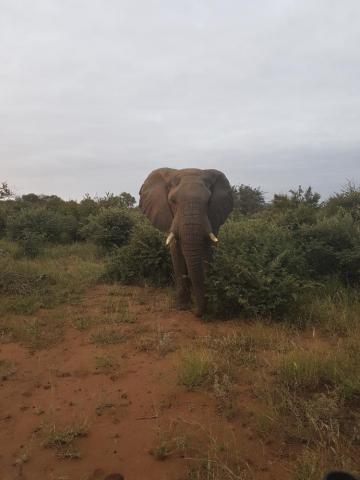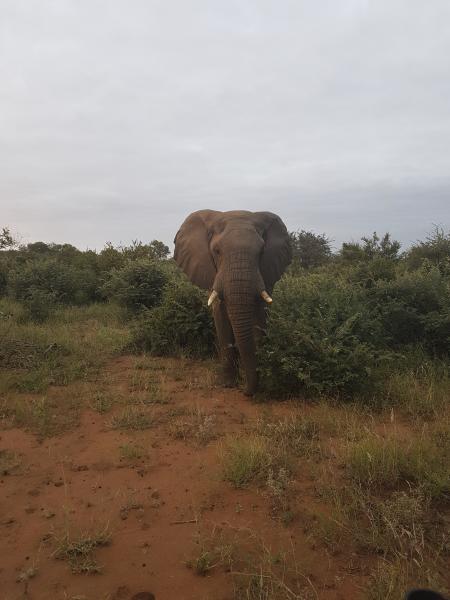 Days in the game reserves are both busy and relaxed, and one should be ready for early mornings and early evenings, with plenty of free time to read, nap and relax in between the 2 daily game drives. The day begins with a 4:30 wakeup call, either on your bedside telephone, or, if there are no phones in the room, by a ranger knocking on your tent's door. Everyone then gathers in the lodge around 5am for a quick bite to eat and, in my case, as much coffee as I possibly slurp down in 10 minutes. You then head for your vehicle with your safari crew and your guide, getting ready for the dawn game drive! The morning game drives typically last between 3-4 hours, with a short break for coffee and snacks along the way. Dawn is one of the best times of day to spot wildlife, when things are still relatively cool and the heat of the day hasn't yet set in. Nothing can compare to a sunrise in Kruger!
Everyone returns around 8:30 or 9am for a full breakfast, which generally consists of a cold buffet and plated eggs or pancakes. The time between breakfast and lunch is then fairly relaxed, and travelers head to their rooms for a mid-morning nap, to the viewing deck to look for wildlife, or to the pool to read or journal. Lunch is served around 1pm (if served at all), and is typically the lightest meal of the day, with a small buffet of cold cuts and cold salads. This small meal is a welcome one, as while on safari you find yourself consuming far more food than you ever thought possible! The second game drive kicks off around 3:30pm with high tea and cakes in the lodge (again, more food). The dusk game drives follow the same pattern as the morning's, and you stop for sundowner drinks and snacks at a picturesque location within the reserve. The drive back to camp is intended for observation of the nocturnal wildlife – we rarely saw much, but when we did it was spectacular! On one particular night drive we saw 4 of the big 5 within just a few hours: rhino, elephant, buffalo and lion.
Finally, as if you needed more to eat, you return to the lodge for dinner. It's hard to imagine hunger after sitting and eating all day, but once you see the food that's prepared you somehow find more room in your stomach….at least that was my experience! Dinner is generally plated, but most lodges will also offer a brie – the traditional South African BBQ – several times a week. These are big events, and you are seated in the Boma BBQ area with your safari group and your guide, indulging on grilled zebra, impala, kudu, ostrich, steak, chicken and vegetables. The night ends around 9pm, and most folks will retire to bed and prepare for the 4:30 wakeup call, only to do it all over again!