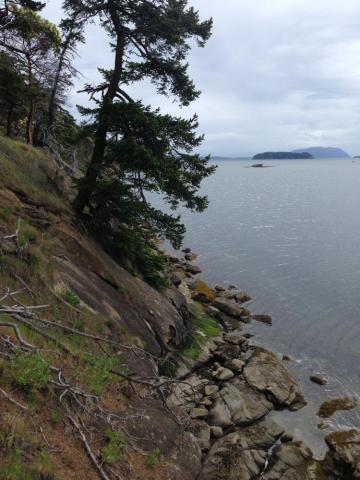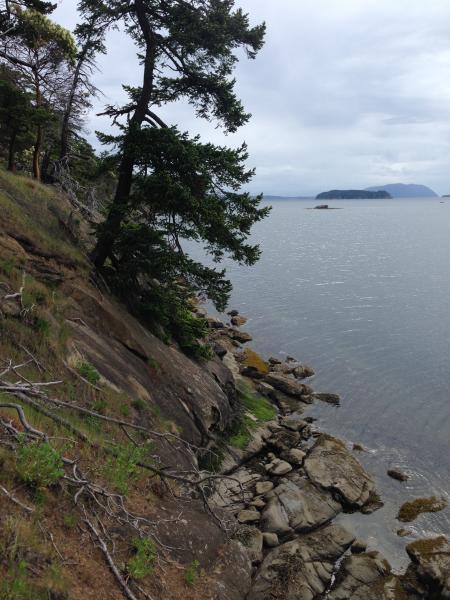 Well...our adventure began sooner than expected. Like 130 in the morning. To the surprise of the captain and staff, we had some of the most unexpected rolling and pitching for about an hour in the wee hours of the morning. Mom and I spent that time giggling and going "weeee!!" in our bunks all the while hangers were clanking and our glasses fell off of our nightstands. Turns out there were a few people worse off and we all started the morning in disbelief that those waves were in the Puget Sound. We later spoke to Captain Cook and discovered this disturbance was right as we entered the Juan de Fuca Strait between Coupeville, Whidbey Island and Port Townsend. Pretty typical for one of the swiftest tides in the Puget Sound.
After a few more hours of sleep, we awoke to cloudy skies and the San Juan Islands! Mom and I shared a coffee at the bow while taking in the beauty of our home. We then joined Michelle (Lindblad's very own exercise coach) at the bridge for morning stretches. It was so fun to relax and move our bodies to the rhythm of the water and wind. When we finished, fresh fruit smoothies greeted us as a final toast to our health.
We joined the rest of the group for a wonderful breakfast, more coffee and learned about the itinerary of the day. Now, expedition travel will have an itinerary for the day but that doesn't mean you'll follow it. Weather and opportunity are our main guides and we just have to listen and watch for the perfect window. Fortunately, we were able to stick to our program pretty well.
We all gathered on the bridge in our wet-weather gear to head to Sucia Island, the largest of the archipelago and a protected bio marine reserve and state park. It even has three sunken barges to create an artificial reef and protect its ecosystem!
Whisked away by our expedition guides, we sped over the water in our zodiacs to a small cove to begin our hike. We split into small groups and explored the coast of Sucia Island. We saw Madronas (red bark trees that really only grow in the Pacific Northwest and Japan), wild roses, Camus and many birds. We also learned the coastline was formed into a sort of honeycomb cave by way of Tafoni, an erosion created by a combination of salt, water, air, freezing and warming. A great touch to the coastline and a good reminder that this area used be covered in ice. At the end of our hike, we had the chance to climb into kayaks and spent the next hour or so exploring a wonderful cove full of birds and a few harbor seals. We enjoyed our paddle and running into friends. We got up close to the cliffs to view the Tafoni in a better light and had a grand time as the sun appeared.
Once back on shore, our trusty leaders picked us up by way of zodiac and took us back to the ship.
Lunch was amazing! Today we had fresh tuna, plantains, rice and beans to pay tribute to the Latin American programs that Lindblad excels in. I was in heaven. We also had some amazing fresh guacamole at each table. YUM!
With food our in our bellies, we jetted back out to open water for a zodiac exploration of Sucia Island. We were extremely fortunate to find harbor seals and, just around the corner, 15 or so Sea Lions! We safely approached the sunbathing critters and the smell hit right away! We floated in the water and watched as the Sea Lions spoke to one another and slept. They eventually felt our presence and dove into the water to hide. It was so cool. We continued around the bay to keep our eyes peeled for any other ocean critters. We were really hoping to see Orcas!
And we did! But not in zodiacs. After our quick boat tour, we boarded the Sea Bird for an afternoon treat of Bloody Marys, snacks and an attempt to find one of the few Orca pods in the area. After a few hours of searching, we had luck! It was so incredible. I had never seen Orcas at home and I was beyond thrilled to see them in my home. My mother was even MORE giddy and was jumping for joy with every breach. We sat in awe at these magnificent whales and took in the afternoon sun.
We were later welcomed back downstairs for cocktails and dinner. I was so happy I forgot to take a pictures of the evening's menu! I had Pan Seared Halibut with orzo and asparagus. We topped it off with a delicious, flourless chocolate torte. I did remember a photo there!
As we ate dessert, the Lindblad staff thanked us for our time. Poems were read, cheers a plenty and we all settled in a relaxing roll with the ocean. Then, our expedition leader told us that the waves were coming back and that we'd all probably want to go to bed and take some medicine in order to sleep through our passage. Hah! These are not things I ever thought I would hear in the Puget Sound.
Mom and I had one last drink with the staff and our new friends before we headed to our room to rest. It was a wonderful day and we were so sad to be heading back to Seattle in the morning. I could get used to this cruising life!
We awoke to pristine skies and the Seattle skyline. We had a wonderful breakfast together, one last latte on the bow and headed off to continue our time together.
I was so happy to have my mom share this experience with me. Until next time!