Fact: Shortly after boarding the S.S. Legacy in Portland, Oregon (on the inland Willamette River, mind you), I found myself wondering how long it would be before we saw our first whale. I knew, of course, that I was cruising on a river. I knew that whales aren't found on this river. Such a thought was so silly that I was embarrassed to say it out loud when my husband asked what was so funny.
While the Columbia and Snake Rivers don't have any of my favorite marine mammals, they do have plenty of others. Throughout our cruise, our guides were eager to point them out. Our first noticeable sightings were salmon and sturgeon as they made their way up the fish ladders at Bonneville Dam, followed shortly by numerous shrikes (these birds impale their prey!), American dippers (these birds fly underwater!), bighorn sheep (most commonly sighted by their big white butts), plenty of deer (always deer), coyotes (several spread out across the grasslands), pigeons (not very bright) and (gasp!) stalkers of pigeons: the golden eagle.
I'm a fan of birds of prey. Whether they're eagles, hawks or owls (not so much vultures), I'm fascinated by their flawlessly graceful forms - especially while hunting. My kayaking group was treated to quite the show while paddling up the Palouse River when three golden eagles began harassing a flock of pigeons. The pigeons frantically flew this way and that while the eagles swooped along their outer edges until eventually, one of the pigeons broke their formation and found itself alone. Almost immediately, it was snatched out of the air and carried away while our group of onlookers watched in amazement.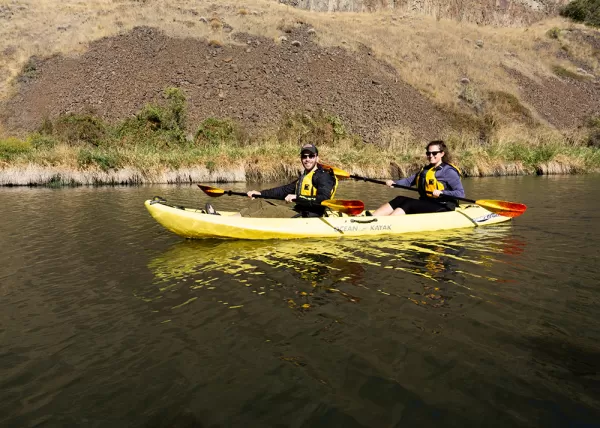 If only we'd had a British gentleman narrating the scene, it would have belonged on National Geographic.