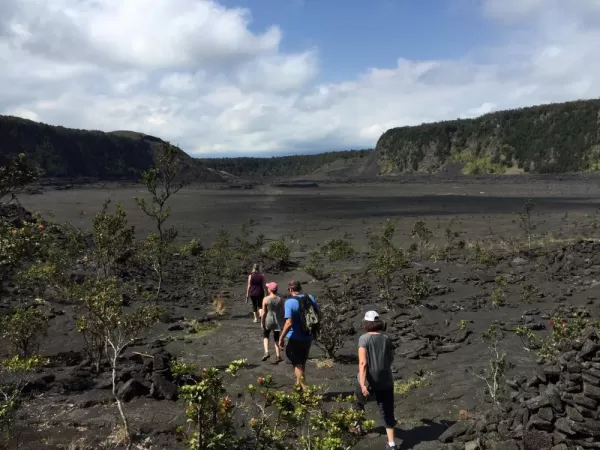 Hawaii Volcanoes National Park was established just over 100 years ago. It is located in the southeast side of the Big Island of Hawaii. There are two active volcanoes, Kilauea and Mauna Loa located within the park. We had the opportunity to visit the park twice – once near the top by Kilauea and a few days later we biked and hiked to the lava flows near the ocean.
With about half a day to explore the park, we started in the Kilauea visitor center to get our bearings, and then decided to go for a hike. The Kilauea Iki trail was the perfect hike. We hiked along the crater rim trail and then dropped down through rainforest into the Kilauea Iki Crater. Not much is growing in the crater and steam was rising in spots. We got to walk on old lava and climb back out of the crater on the west side. We then did a quick stop at the Thurston Lava Tube, where we were able to hike down and then took a short walk through the tube. Lava tubes were once giant lava flows. The outer crust hardens and the inner lava continues to flow. When the flowing lava stops, the outer crust remains as a tunnel.
No visit to Hawaii Volcanoes would be complete without a visit to Kilauea Overlook to look into the active crater. We saw lava spewing, flowing and rumbling, from a safe distance. Shortly after our visit, the volcanoes became very active in Hawaii, so many of the places we visited may now be closed to the public.