Have questions? We're here.

Get inspired by the possibilities.
Change and customize this trip to make it yours.
Hawaiian Seascapes
Example 8 Day Cruise aboard Safari Explorer
Embark the Safari Explorer to discover gems of the Hawaiian Islands! On this 8-day voyage, partake in unparalleled snorkeling, kayaking, paddle boarding, sailing, beach-combing, and skiff excurisons. Visit a plumeria farm, one of Hawaii's longest beaches, and discover island history at the Lana'i Culture and Heritage Center. Cap off your adventure with an evening pa'ina (feast), a Hawaiian jam session with Moloka'i locals, or dive in for a night snorkel joined by giant Pacific manta rays.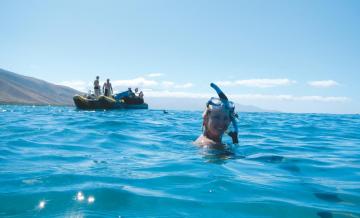 Enjoy an evening feast and Hawaiian jam session with Molokai locals
Snorkel, paddle board, kayak, explore by skiff or hike
Visit the Puu Waawaa State Wildlife Sanctuary and hike above the Kona coast
Snorkel among coral gardens and at a sea turtle habitat
Explore the island history at the Lana'i Culture and Heritage Center
Hawaii (the Big Island)
Honomalino Bay
Kailua Kona
Lana'i
Molokai
Oceania
Olowalu
Polynesia
Full Itinerary
Expand All
Day 1: Moloka'i | Embark
Welcome to Hawaii! Transfer to the hospitality area on Moloka'i. Later, the Captain and crew greet you with smiles and champagne as you board the awaiting Safari Explorer. This evening, settle in and enjoy dinner aboard the ship, before a presentation about your week ahead.
Day 2: Moloka'i
1 Breakfast, 1 Lunch, 1 Dinner
A warm Aloha spirit gives you a sense of Hawaii long ago. No stop lights, no high-rises, just a welcome slower pace. "Talk story" with locals and experience their land and traditions as few visitors ever do. Hear legends and lore, then take in cultural lessons in taro patches and poi making, or hike to a towering waterfall in Halawa's cathedral valley — one of the island's most historic places. At the Moloka'i Museum, discover the history of this ancient homeland as you enjoy an evening pa'ina (feast), complete with a home-style Hawaiian jam session.
Day 3: Lana'i
1 Breakfast, 1 Lunch, 1 Dinner
Gear up for a day of play on the "private island." Thousand-foot sea cliffs line the shore, and ancient volcanic plugs sit both above and below the water's surface as host to a wide diversity of marine life. Grab a snorkel, paddle board, or kayak and get in it. Take a stroll to Sweetheart Rock, a sea stack jutting 80 feet above the crashing surf, and discover the legend of the princess Puu Pehe. Learn about the island's plantation days with a visit to the quaint Lanaʻi Culture and Heritage Center.
Day 4: Maui
1 Breakfast, 1 Lunch, 1 Dinner
Snorkel among coral gardens teeming with underwater life and a known sea turtle habitat. The marine sanctuary located between Lanaʻi, Molokai, and Maui provides front-row seats as you cruise through these productive breeding grounds searching for dolphins, whales, and other marine life. Look beneath the surface from your kayak or paddle board. Then stretch your legs in Lahaina for an afternoon amble through this historic town. Or take a leisurely beach stroll.
Day 5: Captain's Choice Exploration
1 Breakfast, 1 Lunch, 1 Dinner
Leave it to your Captain and crew to seek out and unveil the best opportunities the islands hold in store today. Dramatic volcanic backdrops, marine life sightings, and chances for snorkeling, kayaking, and paddle boarding are all possible!
Day 6: Kona Coast
1 Breakfast, 1 Lunch, 1 Dinner
Fringed by coconut palms, Pu'uhonua O Honaunau National Historical Park offers a morning of snorkeling filled with corals, sponges, tropical fishes. From the tiniest fish to the widest stretch of coral, it's all spectacular. Or explore the rugged coastline on a skiff ride. Follow the lure of the ukulele and round out your day at Koloko-Honokohau National Historic Park. Visit with the ranger (and become a Hawaii Junior Ranger if you choose), hike the trail to petroglyphs, or check out the Kaloko fish pond and remnants of the Aiopio fish trap. Bird watch or relax on the white coral sand beach—you may spot a green sea turtle.
Day 7: Puu Waawaa State Wildlife Sanctuary
1 Breakfast, 1 Lunch, 1 Dinner
You're off to Puu Waawaa State Wildlife Sanctuary where you and a local naturalist climb the trails above the Kona coast. How will you adventure? Head 6,000 feet up Hualalai Volcano on a long hike up the cool and misty slopes, complete with natural history interpretation. Hike through dryland native forest and past lava tubes, and peer into a pit crater from its edge (if you're up for it, you can even go inside a lava tube). A shorter option boasts views of craters, fissures, and lava tubes. Recharge and fuel up with lunch at a coffee plantation on the mountain. For your final afternoon, relax onboard or go for one last dip.
Day 8: Hawaii, the Big Island | Disembark
As the Safari Explorer docks at Kawaihae Harbor, transfer to the Kona Airport or depart for your continued journey.
Photo Gallery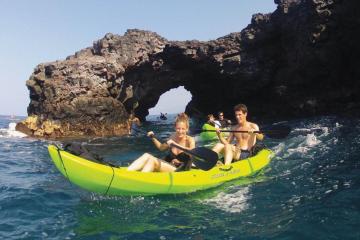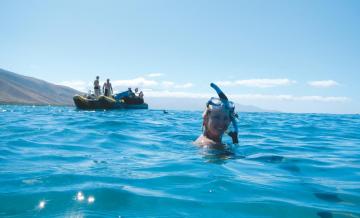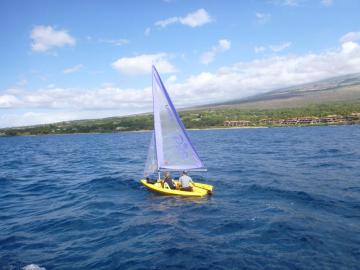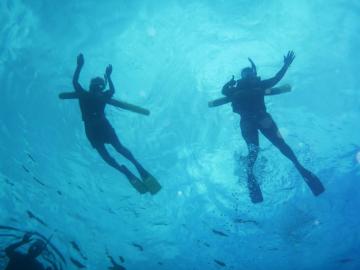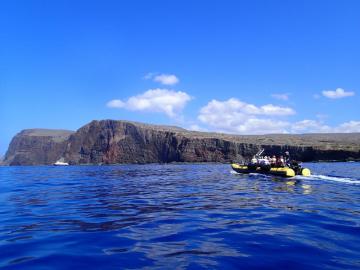 Dates & Prices

B3, B7-14. Queen or twin beds, view window, windowed door, private bath with shower.

B15, B16. King or twin beds, view window, windowed door, private bath with shower.

B1, C1, C2. King or twin beds, windows, private bath with Jacuzzi & shower.

Select a Date
Junior Commodore
B2. King or twin beds, view window, windowed door, private bath with Jacuzzi & shower. *Beginning in May 2019 the Captain cabin will be upgraded to a Jr Commodore cabin with the addition of a separate sitting area.

A1, A2. Separate sitting area, king or twin beds, private bath with Jacuzzi & shower, window and sliding door with balcony.

B6. Queen bed, view window, windowed door, private bath with shower.
Notes

- All rates are quoted in USD and represent cost per person, based on double occupancy.
- Children ages 8-13 are welcome on all sailings and will receive a $500 per child savings

Due to the nature of your explorations, itineraries are guidelines and may change in order to maximize wildlife and natural encounters. Variations in itinerary and the order of days may occur.

Included in Your Fare:
- Group transfers and baggage handling between airport/vessel on embark/disembark day
- Entry fees to national parks/preserves
- From-the-vessel adventure activities and equipment
- Exclusive activities and shore visits
- All meals aboard the vessel
- Premium wine, beer and liquor (excludes super-premium wines)
- Non-alcoholic beverages
- Wellness amenities
- Onboard expedition/heritage guides and guest experts

Not included in Your Fare:
- Airfare to and from your home city
- Discretionary gratuities to vessel's crew
-Travel protection
- Optional excursions and land tours
- Port taxes/fees
Inquire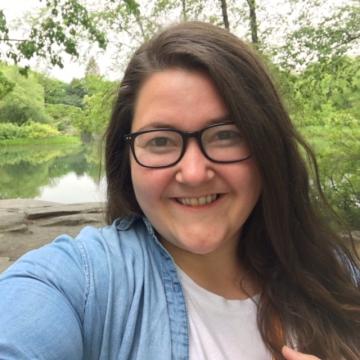 We Love to Talk Travel
Call
+1.406.541.2677
or
Chat Now
Our guide and driver were very good with their knowledge and were very helpful with our questions. It was a very pleasant visit that would have been impossible to do on our own. Hotels and restaurants were fantastic. The special places we got to go to, like the kitchens, were great. Enjoyed the entire trip!
Meyer Smolen
Hawaii Travel Guide
Favorite Hawaii Cruises