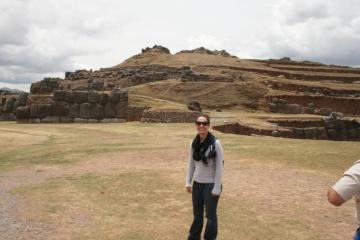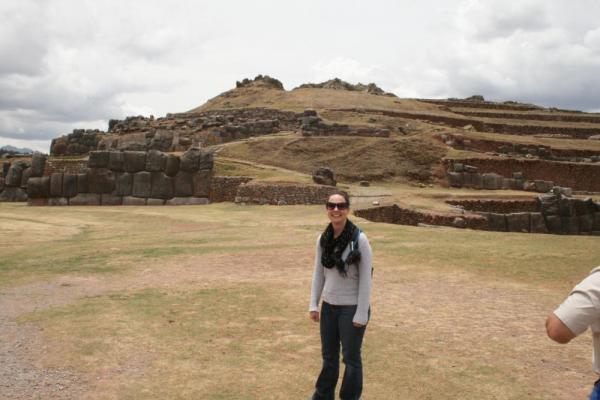 We woke up nice and early for a delicious breakfast at the hotel and then walked to Taypikala to meet up with Rich and Sandy. We set out on a walking tour of Cusco with Ayul at the lead. Our first stop was Koricancha (Qorikancha) – the Temple of the Sun. Here, we learned more about the architechure of the Qechua buildings and saw a crazy stone in one of the structures that had 16 corners on it! We also saw some beautiful paintings and watched a video of the Inti Raymi festival that takes place on June 24 each year.
We continued on towards the giant food market, stopping to check out another cathedral along the way. The food market was amazing!! There were hundreds of different sections, each one dedicated to a particular type of food or product. There was a juice section where they freshly made any kind of juice you could imagine, other sections had hundreds of types of grains or potatoes, dozens of cheeses and breads (some multicolored and shaped like babies in swaddling cloths), chocolates, fruits and more. The "leftovers" section is one that I will not soon forget. There were baskets of pieces of horses and cows. I call it the leftovers because they were pieces that we wouldn't think to use back in the States – mouths, tongues, teeth, genitals – they had it all! It was quite a sight!
After trying some of the less scary options, we finished up at the market and caught taxis up to the giant Sacsayhuaman ruins that overlook the city. These ruins are SO impressive. While the intricacy of the Ollantaytambo and Machu Picchu ruins is amazing, the sheer size of Sacsayhuaman blows them out of the water. The stones here were HUGE, some the size of buses! It cannot begin to imagine how anyone was ever able to move these, let alone carve them to fit so perfectly together.
As we toured them, Ayul pointed out amazing patterns in the stones including great zig zags and even letters! We toured around the ruins for a bit and enjoyed beautiful views of Cusco from up on the hill. Afterwards, Ayul had a driver pick us up and take us to a weaving factory so Rich and Sandy could do a little more shopping. Everything there was a bit out of our budget range, but we enjoyed seeing their beautiful work all the same. They also taught us about the differences in the fabrics which was really interesting.
We headed back to Cusco and grabbed lunch at a restaurant right on the Plaza de Armas. It was a little touristy, but the food was good. After lunch we headed to an Inca museum where Ayul led us on the fastest speed tour I have ever experienced. We saw amazing jade figurines, mummies and photos from when Machu Picchu was first discovered. After having been there, it was neat to see this other perspective on the ruins. The thing that really caught my attention were the skulls from some of the graves found at these sites. We've all heard the theories about aliens building the pyramids and great ruins of the past…well if anything would make you believe it, it would be these skulls. The skulls looked normal on the bottom half, but the top half was elongated and came to a point! I'm sure it was from wrapping their heads, but it was pretty incredibly (and freaky) looking.
After the museum, Ayul took us back to the main plaza where we toured the Basilica Cathedral. The amount of artwork in this cathedral was overwhelming! There were giant paintings covering all of the walls and some had very interesting twists on the old bible stories. One large painting depicted the circumcision of Jesus…not something you picture in a great work of art. Another was a painting of the last supper, but the food was all replaced with Peruvian dishes, the center dish being cuy (guinea pig)! Many of the crosses were designed in the shape of the southern cross rather than a typical Christian cross.
There was room after room and cove after cove of paintings, statues and gold and silver treasures. There was a giant carriage in one room that was completely made out of silver.
We spent an hour or so exploring this amazing Basilica and even crossed paths with another Adventure Life tour while we were there. Afterwards, we bid farewell to Ayul and headed back to our hotel to relax for a bit.
There was a little handicrafts market a block from our hotel, so Kepler and I headed there to do our last bit of souvenir shopping. We bought t-shirts, sweaters, socks and Pisco for our families back home. After shopping, we met up with Sandy and Richard and attended the Centro Cusco de Arte Nativo Native dance show. It was a beautiful show that had about a dozen young couples performing traditional dances in traditional costumes from all over Peru. There were sweet dances, funny dances, sad dances and daring dances. They even had one "drunk dance" where the young men all pretended to be drunk and tried to flirt with the ladies. It was a great show!
After the dance show we said good-bye to Sandy and Rich and headed back to our hotel to prepare for an early morning.