We woke up at 4:40 AM today and met the group at 5:10 for a walk to spot wildlife. Most of the time we were spotting small birds in trees quite a ways away. I've mentioned how much Kepler and I love birds, so you can image how excited we were to be up this early for these types of sightings. We went to another area where you can usually spot dozens of cocks of the rock. There were only 2 there, so it wasn't very exciting compared to the display the night before.
We kept walking and Kep saw some movement in the trees across the canyon. While it took really good binoculars to make out the brown specks, it turned out to be wooly monkeys! Cesar, our guide, said that it was a rare find and a good spotting! This made me nervous that we would not be seeing good wildlife on this tour and I was feeling a little disheartened.
We walked back to the lodge for breakfast and then had just enough time for a quick shower before getting back on the bus. It was another morning of curvy jungle roads along sheer cliffs and over waterfalls. We got stuck in a couple of waterfalls and the driver had to get out and stack rocks in front of the tire to be able to drive over.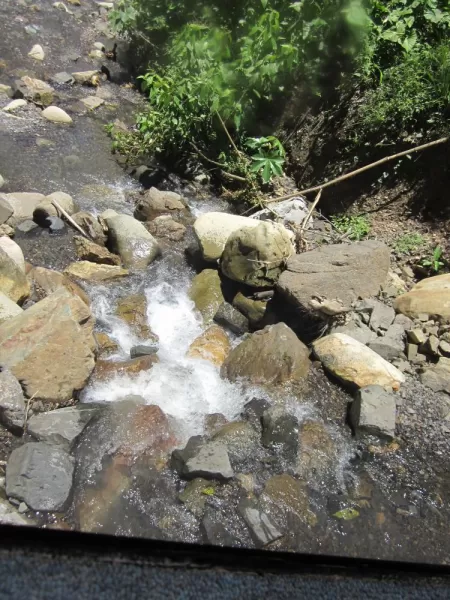 We stopped at one town along the way to use the bathroom and saw a giant tree of the tiny peppers I grow at home! At one point along the drive, the cook shouted 'Mono', which means monkey in spanish, and the driver stopped. All of the birders slowly started to get up, so I jumped up and ran off the bus and sprinted back with the guides. A group of 3 wooly monkeys were jumping across the road using the tree limbs just above our heads. I got there just in time to see one of them about 5 feet from me!! By the time the rest of the group got here, they were already way up in the canopy. I was SO excited to get to see them so close!
Further along the way, we stopped at a coca plantation. They showed us how they grow and harvest coca leaves for the production of coca tea and coca candies, and just for chewing too. They also showed us how little of the leaf is actually used to produce cocaine, and how many thousands of leaves it would take to make enough cocaine to even be worth anything.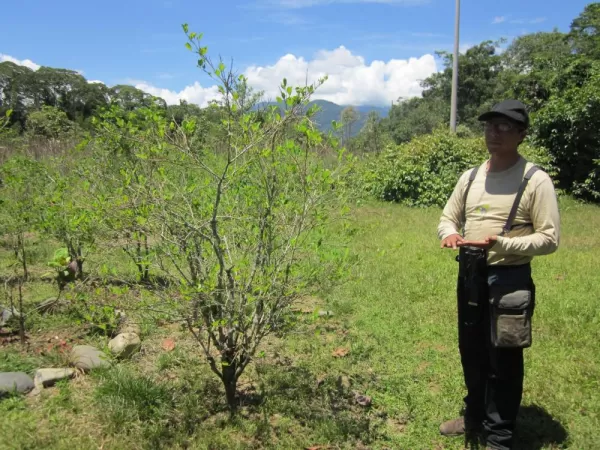 The plantation had a pet macaw that was a blue and yellow macaw and liked to speak Spanish!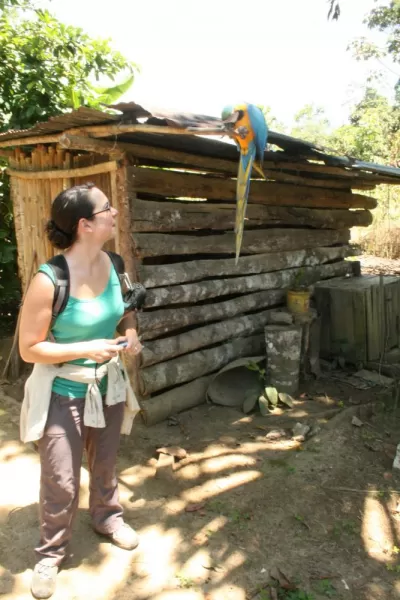 We made our way to another small town where we parted ways with the bus and half of our group. Those of us heading to the tent camp got into one boat, while those skipping camp and heading straight to the wildlife center got into another. The boats were motorized canoes with roofs and about a dozen individual seats.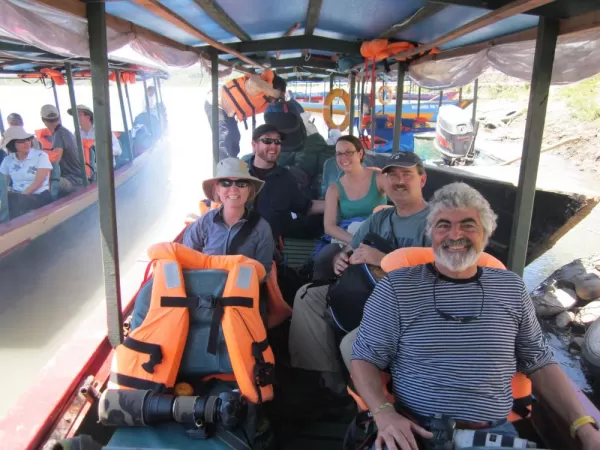 The other group went about 5 minutes upstream and stopped at their lodge for the night. Our group continued for another 5 hours by boat down the Madre de Dios River to the tiny town of Boca Manu.
The trip was hot and took forever, but most of us had a hard time keeping our eyes open for more than 2 minutes. Partway through the journey, we stopped at a tiny local village to pick up more fuel. Thomas and Wilson, brothers who were our boatmen for the whole trip, were from this town, and their families met them at the riverbank to bring them home cooked food and fresh laundry while they loaded up the extra barrel of fuel.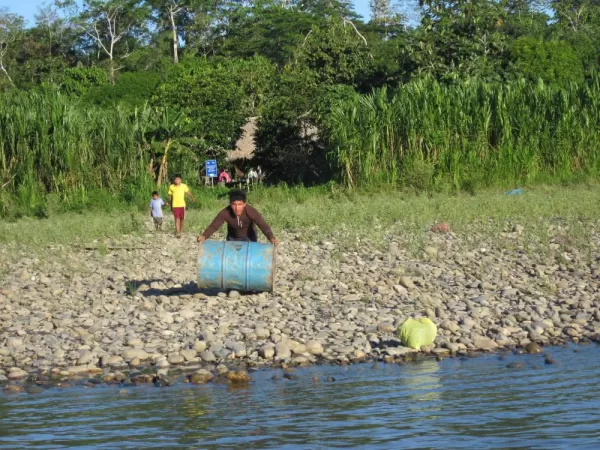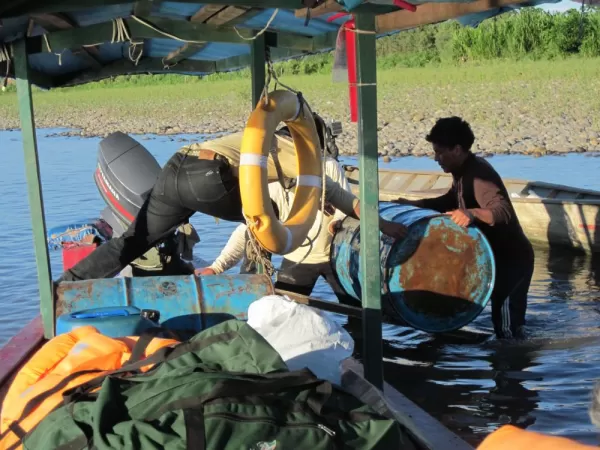 We pushed off and continued on our way. We stopped in Boca Manu to buy beer, water and gatorade to hold us over for the next few nights. the town had a few small buildings surrounding a big field where it seemed like most of the town was out playing soccer.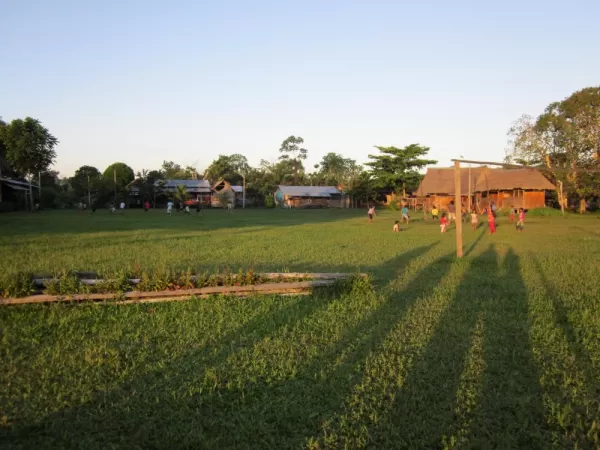 One porch had a macaw and a parrot sitting on it!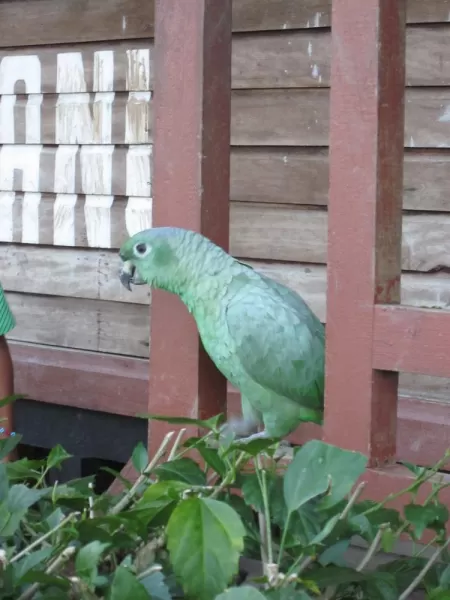 Once we had our drinks, we hopped back in the boat and continued another 5-10 minutes to Yina Lodge. It was already dusk when we arrived, so we quickly made our way to our individual thatch-roofed bungalows. They were cute and had a screened porch.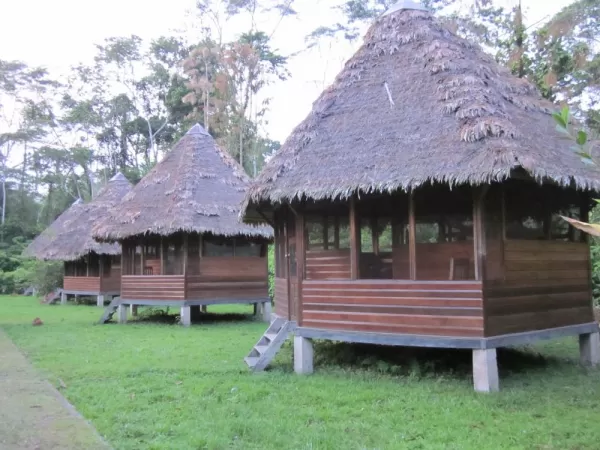 There were shared bathrooms and showers in a building just up the path from the bungalows. They were okay, but a little dirty and really buggy. They turned on the generator in the main dining lodge for a couple of hours so we could all charge our batteries really quickly. Claudia and Mike, other travelers in our group, were late to dinner because they found a bat in their room and had to be moved to a new bungalow!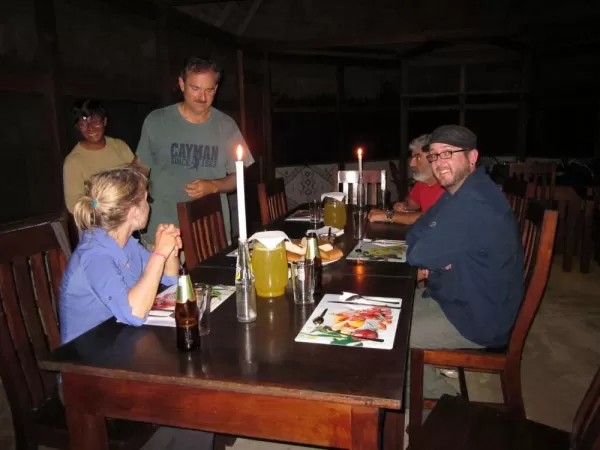 We had a delicious dinner together. Thomas, had made his own aji (hot sauce) and it was amazing in our soup!! At dinner, Claudia spotted a giant spider on one of the walls.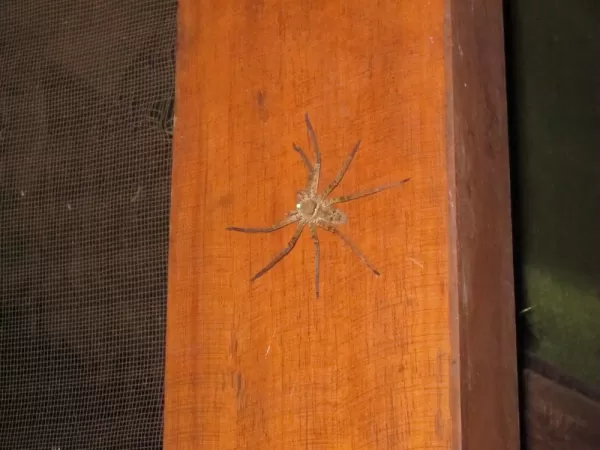 Cesar told us it was a wolf spider. I had heard wolf spiders were terribly aggressive and asked Cesar about it. He proved this was true by putting a rolled up napkin in front of the spider so we could watch it attack it! That's what you want to see before walking back, in the dark, to your bungalow!
When we headed to our bungalows for the night, we found them all FULL of roaches! They were the biggest roaches I have ever seen (and I've lived in Florida), and poor Kepler had to clear them out while I stood outside frozen with fear! These roaches were very colorful (yellow, purple) and some were as big as my hand! Ted yelled over to our bungalow that they were all over his stuff and in his suitcase, so I was grateful that we only found them on our walls. Once I got the all clear, I dashed into the bungalow and we quickly tucked ourselves into our bug netting and fell asleep.