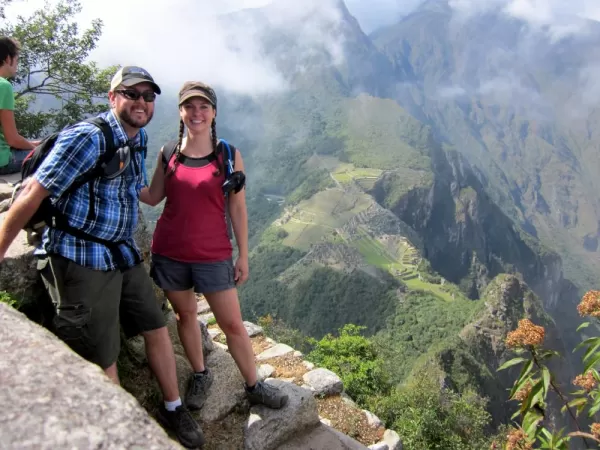 After too few hours of sleep, we woke up and got ready for our hike. The amazing breakfast at the hotel made waking up so early almost bearable! Ayul met us at the front desk where we checked out and we headed down to get in line for the bus (they would bring our bags to the train for us). Back up at Machu Picchu, we made our way across the ruins to the check in point for our hike. The ruins had a completely different feel this morning. They were totally clouded in so you could just see glimpses of the ruins as the clouds shifted and changed. It felt so mystical and almost made us feel like we were there when they were first discovered. Ayul helped us get in line for the hike and then left to meet Rich and Sandy. The line was pretty long, but it didn't take much time to get through it once they opened the gates. Each person has to sign in and then sign out again when finished.
We felt better about our ability to do the hike when we saw people ahead of us in make-up and high heels! As we started out, everything was pretty clouded in, but every break in them provided a new amazing view. We headed down some steep steps at the beginning and then started to make our way up. The crowd thinned out as the super fit hikers forged ahead and the slower folks fell behind. The climb was tough, but we played leap-frog with other hikers, letting them pass as we rested and then passing them as they caught their breath. We were grateful for the amazing views that kept peeking through the clouds, giving us excuse after excuse to stop and just soak it in. The steps were really steep at points, but there was a wire handrail that was put into the side of the mountain for support.
Near the top, there were some Incan steps that we took to get to a side view point and then we had to make our way through a tight little tunnel to make it to the top of the mountain. Once we reached the top, there were two big rocks on the very peak and everyone was vying for the best spot on them. For the most part, people were really great about taking turns and offering to take photos for each other. The clouds were still around a little bit, but great views popped out every minute or so.
We stayed at the top for 15 or 20 minutes, enjoying the 360 degree views of the surrounding mountains and valleys and then we started to make our way down. The hike up took about an hour, which is what we had been told to expect. We ended up taking 2 hours on the way down! As we came down the side of the mountain, there were ruins to explore and amazing views to capture. The clouds were completely cleared out at this point, so every level provided a new, amazing photo.
Some of the steps on the way down were so tiny and so steep that I went down them sitting down, or turned around and climbed down using my hands and feet. I do much better on the way up with heights than I do on the way down, so I took my sweet time with this process.
Finally, we made it down to the bottom just as the ten o'clock hikers began their trek. It was getting incredibly hot and the trail was now fully exposed to the sun, making us SO grateful to have been in the early morning group.
We still had time before we needed to meet up with everyone else, so we wandered the ruins until we felt that we had seen everything. We found a nice little shady spot on the edge of a terrace and just sat there for about an hour taking it all in. There was a Peruvian family sitting on benches behind us that was nervous we would fall over the edge, but after that hike, this seemed like nothing! As we stood up to leave, we kicked up a giant cloud of dust into their faces – they were so nice and laughed it off!
We left the ruins and had our passports stamped on the way out. We paid to use the restrooms and then waited in the shaded café seating area until Rich and Sandy met us and we all took the bus back to town together.
We grabbed lunch at a local restaurant "El Capitan" or "Indio Feliz". It was a funky restaurant with a boat/mermaid theme. They had a 3 course menu with awesome bread and chips. The pasta was a little bland for my taste, but everyone else seemed to enjoy it.
After lunch, we headed back to the train station where our bags were waiting for us. We loaded into the Vistadome train and had really comfortable seats. On the way back to Ollantaytambo, they had someone come in and do a native dance presentation for us in a costume. It was certainly…interesting. We were glad to be in the back row so we had a little distance from him! We were served another large "snack" and then the train staff that had been serving us put on a fashion show. They displayed locally made beautiful garments made of baby alpaca wool that were then available for purchase. They kept having us feel the garments as they wore them which was a little awkward!
When we arrived in Ollantaytambo, we were met by our driver, picked up our bags at El Sauce and hit the road headed back to Cusco. Along the way, we stopped at one of the little chicha shops. The woman who owned it showed us how she made the chica and we all had the chance to try some. It was delicious- sort of like a fruity beer. In the alley of the shop, they had a game set up. It reminded me of corn hole or the washers game that people play in the States. It was an elevated table top with several holes in it, each worth different points, and a metal frog sitting in the middle with an open mouth. You had to stand across the alley and throw metal rings, trying to land them in the frog's mouth or one of the holes – loser buys drinks! Ayul showed us how to play and we all had a go (I won!!!).
We continued back to Cusco stopping at beautiful vista points along the way. Once back in Cusco, we were dropped off at our hotel for the evening. Kepler and I were at a new hotel for this night- Los Portales. It was right on the main street and a little noisier than Taypikala or Casa Andina. We were too tired to go out to dinner, so we walked down the street to a local grocery store. We bought some local chips, cookies and wine and had a picnic dinner on our hotel beds before passing out for the night.