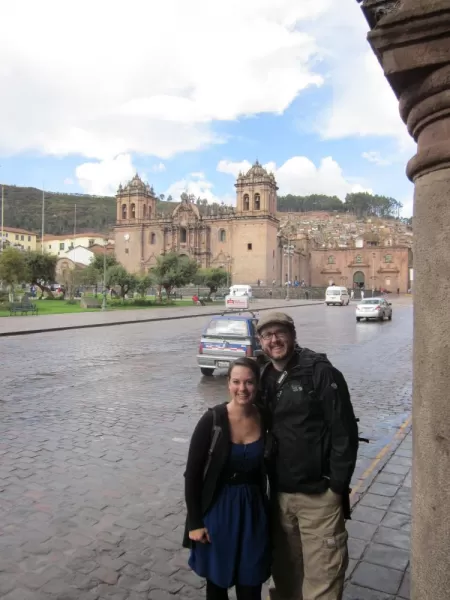 This morning we got up and enjoyed the hotel breakfast (which was great!) before heading back to the airport to check in for our flight to Cusco. The area where we had to wait was the waiting area for about 10 different flights, all heading to Cusco. It was crowded and confusing, but we eventually figured it out. As we were waiting, some Peruvian guys came in and sat down a row away from us. They pulled out instruments (a guitar, a pan flute...) and started to play music and sing. They were practically sitting on top of some American girls who looked like they didn't know what to do with themselves. It really looked like something from a hidden camera show and that these girls were being pranked. Functioning on very little sleep, it was hard to process what was going on without laughing.
Eventually, we recognized our flight number being called and boarded a bus that took us to our plane. The plane was really nice (MUCH nicer than our international flight) and they served us another cold breakfast during the flight. When we arrived in Cusco, we were met by our driver and taken to our hotel - Hotel Taypikala - where we were checked in and helped to our room on the third floor. With no elevator, we were able to feel the altitude on our way up the stairs, and Kepler was grateful for the free coca tea in the lobby.
The hotel was nice and the staff was very friendly. We wanted to set right out to explore the area, but sat down the bed and ended up passing out for a few hours instead. We were glad we did when we woke up an hour into our nap to a big rain/hail storm. We felt a lot less guilty just staying inside and resting!
When the weather cleared, we got directions from the front desk and set out on our own to explore. We walked to the Plaza de Armas and took a ton of photos of the beautiful buildings along the way. We ran into a little parade, saw beautiful churches, did some people watching , went to an ATM, bought water and snacks and then returned to the hotel just in time to meet the guides from Manu who came to the hotel to brief us on our amazon trip. They described the next 6 days to us so we would know what to expect and how to prepare. Afterwards, we went down to the hotel restaurant for dinner. I had alpaca and Kepler had a local typical beef dish. Mine was pretty dry, but Kepler's was delicious! We went back to our room and packed our bags for Manu before settling into bed nice and early.