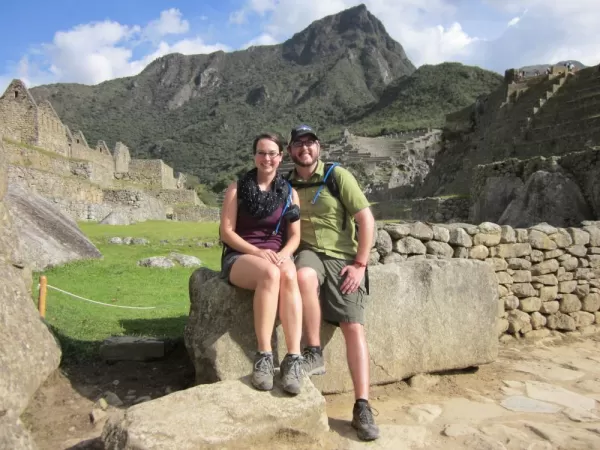 We started our day with another delicious breakfast at the hotel (they made the eggs fresh to order when we came down!). Next, we walked over to the Ollantaytambo ruins. These ruins had SO many stairs, and they used much bigger building blocks than the Pisac ruins. The intricacy of these ruins blew my mind! I cannot describe how smooth and perfectly carved everything was. There were amazing patterns in the blocks that were so symmetrical and everything fit so perfectly together. Ayul showed us where some blocks had been split apart so you could see the tongue and groove method that was used
within
the stones – you can't see any of this from the outside!
At the top of the ruins were carvings of the Andean cross, the only decoration we saw on any of the ruins. These ruins had a system of aqueducts built underneath them that brought water to all areas of the ruins. They build these canals under the city so that enemies would not have access to their water supply and could not poison it. The canals still perfectly carried water throughout the ruins and there were beautiful fountains where you could see it come out at the bottom. The fountains were not only beautiful, but super functional. They had different levels built into the stone that acted as sediment retaining pools so that they worked as a water purification system!
As if that wasn't amazing enough, Ayul pointed out some old ruins high on the mountain across from these ruins. Those ruins were an old grainery built by the Quechuas. It was perfectly positioned on the mountain to catch the sharp wind and forced it to circulate around inside the building. They built shelving and storage units in there where they kept all of their seeds, bulbs and extra food, and the wind kept them refrigerated!
The timing of the morning was perfect. We had watched hoardes of tourists covering the ruins the day before, but we had them almost completely to ourselves today! Ayul told us that they are always crowded and super windy in the afternoons, but the mornings are usually empty and sunny- he was right!
We next made our way to the home of a local in town. Ayul introduced us and the man showed us some typical tools he used, showed cooking methods and taught us about superstitions. The house was completely overrun with guinea pigs that they were farming for food (cuy!). There were skulls of old relatives on the walls (to protect the house) and llama fetuses hanging from the ceiling- I think they said this was to promote fertility, but I might have heard that wrong.
We returned to the hotel, put our suitcases in luggage storage and then grabbed a rickshaw to take us to the train station. We arrive at the train station with about a minute to spare before it took off (Ayul's timing was impeccable!), grabbed our seats and were on our way to Aguas Calientes.
The train ride took about and hour and a half and wound us through the mountains. We watched the scenery turn from brown and bare to lush and green as we continued along. They served a snack on board that consisted of quinoa, a few potatoes and some cheese along with Inca Cola! An announcer explained some of the things we were seeing along the way and Ayul filled in the rest. As we stopped for train traffic, there were kids begging along the side of the train. Despite the announcer telling us how dangerous it is to throw stuff to the kids (it encourages then to hang out on the tracks where they can be killed by a train), the people sitting in front of us threw stuff out the window at them. It is so frustrating when people don't respect and protect other cultures!
As we rode, I realized how incredibly sun-burnt I was. I must not have realized how sunny it was in the Sacred Valley, and I always forget it is stronger anyway at the equator. Ayul was very concerned about it and made sure I kept a scarf on for the rest of the trip to protect my burnt neck and shoulders!
We arrived in Aguas Calientes and received a surprise! All 4 of us had been upgraded from our standard hotel to Machu Picchu Pueblo- one of the top 100 hotels in the world according to many travel magazines! The staff from MPP met us at the train station and took our bags to the hotel for us so we didn't even need to go check in. We went down to the main square in town to explore while Ayul checked into his hotel. I used this opportunity to buy some chapstick with a super high SPF factor!
You have a take a local tourist bus to get to the ruins from Aguas Calientes, so we got in the VERY long line for this. Fortunately, the buses run back to back, non-stop, so it only took about 15 minutes to get through the line. The bus ride too about 20 minutes and then we were standing at the check point for the ruins. Getting into the ruins was almost like going through customs at an airport, but it was quick and we made it in. We took the short trail to the ruins and then walked in to such an amazing site. It was truly awesome!
It is hard to put that feeling into words. It is mystical, beautiful, and confounding at the same time. This is when you realize there is also no way to capture that feeling in a photo- but we took about 2,000 trying! There were llamas strolling about and tourists milling around, but it wasn't over-crowded like I've heard it can be.
It was early afternoon when we made it there and we were anxious to start exploring. Ayul brought us in to one of the terraces and had us sit down so he could tell us the 'story' of Machu Picchu. He talked for almost an hour, and while it was captivating, it also made me nervous that he was cutting into our precious exploration time. By this point, I should have realized that he is the master of timing and that he knew exactly what he was doing. After giving us the build up information, Ayul started to lead us through the ruins. He timed it so well that we saw pretty much the entire area, with lots of explaining and stopping for photos along the way, and we never felt rushed. He also had it worked out perfectly so that we avoided crowds and almost felt like we had the ruins to ourselves at times. Our photos never had massive crowds in them and we learned so much! Ayul was so captivating and intelligent that travelers from other groups nearby would slowly inch towards us to listen to his stories.
We learned about how they attached the roofs to the ruins, locked their doors, told the time of day and time of year, got fresh water, created indoor plumbing and more…and it was all done with stones! The compass rock was very impressive, as was the way all of the windows and doors lined up perfectly with sun directions or landmarks in the surrounding mountains. We saw chinchillas and more llamas as we explored and were just amazed over and over again as we learned about the Quechua systems that were used to create the ruins. The fact that the stones were perfectly level was another unbelievable feat. I could write another 20 pages about each of the amazing facts that we learned.
At one point, it started to rain and it lasted for about 10-15 minutes. When the rain stopped, there were beautiful rainbows surrounding us in the mountains! Gorgeous! We passed a local student group who giggled as they tried to speak English to us as we passed.
Ayul knew the perfect spot to get the iconic "I was at Machu Picchu" photo, so we went up to the lookout and took a bunch of pictures. We had a few minutes to sit and relax and just enjoy the ruins before we heard the whistles announcing the closing of the ruins for the day. We made our way back to the bus stop and waited about 5 minutes for a bus back to Aguas Calientes.
Back in town, Ayul helped us buy our bus tickets for the next day, and then led us to Machu Picchu Pueblo, our gorgeous home for the night. They greeted us with tea and led us to our rooms. The grounds were lush and tropical feeling with little streams and waterfalls and fountains throughout. Because of these streams, you could only hear the soft sounds of water from your room rather than town or the trains. Our room was fabulous- a huge bed and to full walls of windows. One full wall of windows opened up onto our own porch area where there were chairs and a table. The bathroom had a nice shower and there were fancy toiletries.
Rich and Sandy went to enjoy the hot tub for a while, but Kepler and I forgotten our suits in our bags back in Ollantaytambo. Instead, we set out to explore the hotel grounds. We made our way inside and tried out several of the lounge areas, each with comfy furniture, warm fireplaces and bowls of delicious fruit to enjoy. Sandy and Rich joined us and we took advantage of our free pisco sour from the bar and then went into the restaurant. Dinner is included in your stay at Machu Picchu Pueblo, and it is a fabulous one! Kepler and I both ended up getting the steaks and I cannot begin to describe how delicious it was.
After eating until we thought we would be sick, we headed back to our rooms to shower and head to bed. As part of turndown service, they come and put hot water bottles in your bed! We could stay here forever!