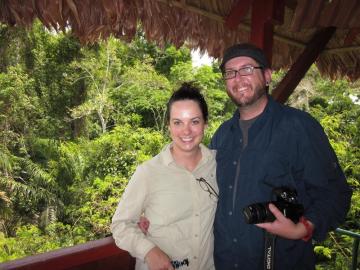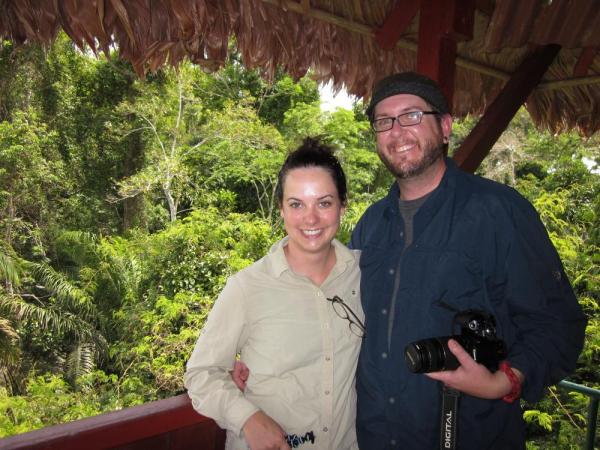 Today was the first day we didn't have to move to a new location- one full day and night in the same camp! We set out this morning by canoe for Cocha Otorongo, an oxbow lake near camp. We docked on the sandy shore and set off on a hike through the rainforest to the oxbow lake. Along the way, we saw some Brown Capuchin monkeys playing in the trees and some really funky looking mushrooms. We stepped over giant groups of ants and fought our way through black clouds of mosquitos. I was thankful for the thick layer of deet I had applied and the treatment we put on our clothing before the trip (we actually made it through the entire amazon experience mosquito bite free!).
After a decent hike, we arrived at Cocha Otorongo. There was a jetty sticking out over the water where we could stand and observe the lake. The plants around the jetty were thick and full of really beautiful tropical flowers. As we walked down the jetty, small bats flew out from underneath us, darting about and then returning back to their dark home under the planks.
After Cesar taught us more about the plants we were seeing, we set off for the canopy tour and jetty at the other end of the lake. As we were walking, we heard a rustling noise in the plants next to us and then all of a sudden, two rodents about as big as a rabbit came running out of the brush chasing each other. One ran right between Mike's legs, and then the second one ran right into him! He let out a pretty great scream as he jumped into the air! It gave us all a really good laugh!
On our way back to the beach, we saw some really neat trees. Lots of trees along the way were covered in vines that had cut into them. Cesar said their were strangle vines, which seemed like a well suited name! We also saw monkey puzzle trees that have a million big, thick thorns or spikes growing out of them. These are supposed to prevent monkeys from being able to climb the tree and eat the fruit! Finally, we saw a giant ceiba tree. When I say giant, I mean GIANT- it would give most of the redwoods a run for their money!
We made it to the beach where our boat was waiting and we were all given rubber boots to wear as we crossed the water-logged sand. My boots were about 5 sizes too big, but I didn't speak up about it because we only had to walk about 20 feet to get to the boat. Big mistake! About halfway across the beach, I hit what I can only describe as muddy quick-sand. My boot sunk completely into the mud, just about up to the rim. I couldn't pull, because my foot would just come out of the oversized boot, and every time I tried to move I just sunk in further! I was screaming and laughing so hard that I could barely be helped! Finally, Cesar and my husband made it over to me and were able to pull me to freedom.
We boarded the boat and made our way back to camp. Along the way, we saw more squirrel and Capuchin monkeys. It is so neat how they travel together. The squirrel monkeys are small, so they are able to reach fruit more easily than the Capuchin monkeys, and the Capuchin monkeys are able to offer protection for the little squirrel monkeys! When we arrived back at camp, we had enough time to grab more water and use the bathroom before heading out on our next excursion.
We went to visit a native camp up the river. The locals use this camp to teach visitors about their way of life. Unfortunately, the locals were all off hunting when we arrived. Cesar, Thomas and Wilson decide to do demonstrations for us instead. They shot small bows and arrows and then made fire by rubbing sticks together. It took all three of them trying and quite a lot of effort before they finally had a flame, but it was very entertaining to watch.
By this point, the sun was directly overhead and it was miserably hot. I am someone who likes a blanket on me when it is 90 degrees out, but this was beyond what I could handle. We were wearing long sleeves and long pants to keep the bugs away, and every inch of our bodies was covered in sweat. We cowered in any small bit of shade we could find, and only got relief when we were riding on the boat and had some breeze- we all started to refer to this as our air conditioning. I could feel my body starting to shut down from the heat, and it was not good.
We went back to camp for lunch and I could barely eat anything. We had an hour before our next excursion, so I went to my bed, took off any extra layers I could, and just laid in my own sweat while chewing the air. It had to be well over 100 and the humidity was off the charts. Growing up in Michigan and living in dry-as-a-bone, cold Montana did not prepare me for this.
I tried to drink as much water as I could, and then we made our way to the boat to head back to Cocha Salvador for another visit. We took a new trail through the jungle and then boarded the catamaran. There was absolutely no shade on the river, so Cesar gave me an umbrella to sit under, which helped quite a bit. We floated along the lake and saw White Capuchin, squirrel and howler monkeys. We saw a ton of birds, some new to us and some we had seen before. Every few minutes a pair of macaws would fly far overhead squawking as they went. It was super peaceful and relaxing- if it wasn't for the crazy heat, it would have been perfect.
We returned to camp for dinner, but I couldn't eat anything. I took a shower instead in an attempt to cool off. While I was in the bathroom, something big kept running into me over and over. I screamed, but there is not much you can do in that situation. I finally got my headlamp on and realized it was just a giant tree frog. It was actually pretty beautiful!
A new group joined us at camp, but they mostly kept to themselves. For the first time ever, there were bugs covering everything at camp! They had not been a problem the night before, but it was like these little flying termites had completely taken over. Cesar said it meant the rain was coming, and boy was he right! We were all tucked away in bed by 8PM and that is when the storms started. It was a huge crazy storm with really close thunder and lightening and it lasted through most of the night. Being separated by the storm by just a screen made me feel like I was right in the middle of it; it was really amazing! It also meant we got VERY little sleep!