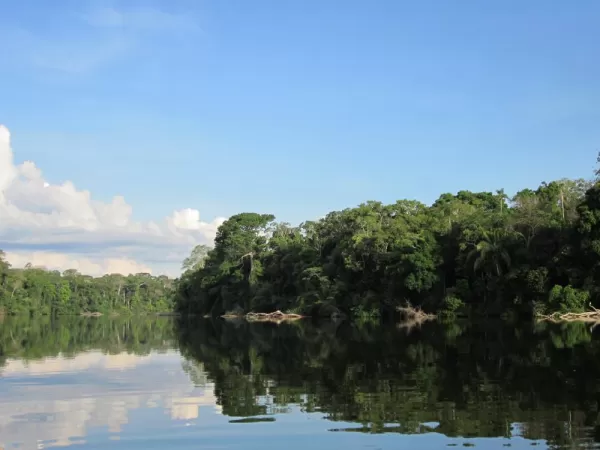 Ted really wanted to see jaguars, and was very upset that we had not. To give us the best chance of spotting them, we agreed to leave before dawn. We got up around 4 AM for breakfast (though I still felt too sick to eat), and were in the boat and heading back down the river by 5 AM. Sadly, we saw no jaguars.
We spent 7 hours on the river- 5 back to the national park check-point where we signed out, and 2 more to the Manu Wildlife Center where we met back up with the group from the beginning of the trip. It rained for the entire ride, so we went from being too hot, to being wet and cold. At least most of us were able to nap for a good portion of the ride, so it didn't feel horrible.
After the places we stayed the past few days, the Wildlife Center looked like a luxurious tropical paradise. The grounds were landscaped with fascinating tropical plants and gorgeous flowers. We were led straight to the main lodge for lunch. The lodge was huge and had a big dining area and another social area. The social area had a bar in middle of it with several sections of comfy furniture on one side and rows of hammocks overlooking the jungle on the other side. There were big coffee, tea, juice and fruit tables where you could help yourself, and then we were served a delicious gourmet lunch that was topped off by an amazing cake for dessert. I was glad my appetite was starting to come back!
The manager came and welcomed us and then showed us to our cabanas. Kepler and I were in the Capybara cabana. It was absolutely beautiful! It had a giant bed, a sitting area, a table and chairs, and a bathroom (a bathroom in our room!!!). On our bed, our towels had been formed into a giant peacock with big tropical flowers between each crease.
We wandered the grounds exploring and taking pictures until it was time to meet back up with the group. We were going to be heading out on two excursions and would possibly not get back until late, so we picked up sack dinners to bring with us.
Our first excursion was to the macaw clay lick. I was about a mile away through the jungle. It was a really cool journey through the forest that required crossing over bridges made from old logs. Ted was very upset about this (he didn't like any excursions that required walking), but Kepler and I thought it was really neat! We passed trails of leaf cutter ants carrying little bits of leaves. It looked like a moving mosaic of green passing over the trail. We tried to take photos, but they didn't turn out well.
We made it to the clay lick just before the first macaw arrived. The wildlife center built a tower so that we could sit up closer to the lick to observe. After a few minutes, the macaws started to arrive. The clay neutralizes a poison that is in the food they eat, so they need to come and feed on it every day. There were mostly scarlet macaws, but there was one blue and yellow that joined the group as well. They squawked at each other as they picked at the clay and we all snapped away with our cameras.
After about half an hour of observing them, we headed off through the woods for a couple more miles to the tapir clay lick - our whole reason for picking this trip. There was a 90%+ chance of seeing a Tapir and they could come at any time after dusk. The last group saw one around 5 PM, so we were hopeful that we would see one and be back at the center in time to enjoy our first cold drink in almost a week.
The trail to the tapir lick was over stumps and fallen trees, around big holes, and over old logs used as bridges. Knowing that we would be returning on this trail at night made me a little nervous, but it was worth it to see the tapirs. As we approached the observation platform, we removed our shoes and walked along a long elevated pathway that was lined with rubber to muffle the sound of our feet. At the end of the pathway was a long, narrow observation platform. The platform was lined with mattresses, each with a pillow, blanket, and its own mosquito net, sort of like little forts. We each climbed into our own fort and were told to wait or rest silently, and Cesar would wake us when the first tapir arrived. It could be 15 minutes, it could be several hours. We all curled up and immediately passed out. When I woke again, it was pitch black out. Kepler kept snoring, so I would occasionally try to poke him through the netting to keep him quiet while we waited, and I continued to drift in and out.
We waited on the platform until 9 PM when Ted had a fit about having to wait, and Cesar told us that we needed to head back to camp. It was SO disappointing to have a 90% chance of seeing these unique creatures only to have them not show up...I guess that is how it goes with wildlife though!
We started the trek back through the dark jungle and my heart was pounding. I don't like to admit this, but I am terrified of the dark. I have mini panic attacks for no good reason whatsoever when I can't see my surroundings. As we headed back, I was keeping up a good front, despite the creepy crawly creatures we spotted along the way. My headlamp seemed to be attracting bugs to my face, so I decided to hold it in my hand instead. I was watching Kepler's feet in front of me so I wouldn't step on anything. I watched him step, and then something big scurried behind his feet. I shined my light on it and called Cesar over. It was a scorpion spider! It was bigger than my hand and looked like a scorpion with spider legs. It was super creepy! As we continued along, we saw more scorpion spiders, actual scorpions, roaches, wolf spiders and toads.
We had to cross back over the same path we took on the way in, which meant going back over all of the log bridges in the dark. Kepler was crossing one when the log on the end snapped in half and collapsed. Luckily, he only had one foot on this log and when he fell, he landed on the bridge and didn't go off the side! Cesar quickly told us to try to stick to the middle of the bridges to be safe. We were getting closer to camp when all of a sudden, something dropped out of the trees onto my arm. I stopped keeping it together at this point. I started screaming like I was on fire and shaking my arm frantically. Finally, someone shined their flashlight on me and we discovered it was only a grasshopper. Cesar warned me to stay still if this happened again, since flailing about like that could cause the creature to bite, and it may not be just a grasshopper next time. I could not wait to get off this trail!
We made it to the final bridge of the walk and stopped to get directions for the morning. While on the bridge, we saw a black caiman in the water! Then, just as we were about to finish the walk, Claudia got stung in the neck by a big wasp! What a night!
We headed back to our cabana and found a giant grasshopper shaped like a leaf on our wall…and a few roaches. Kepler cleared them out for me and we crawled into bed.