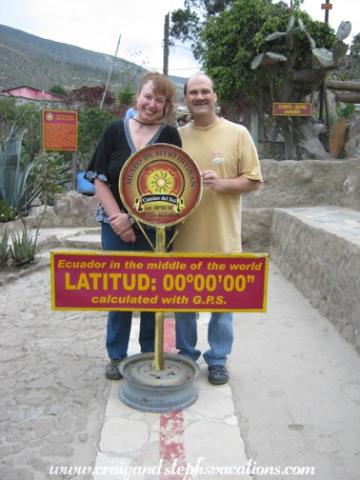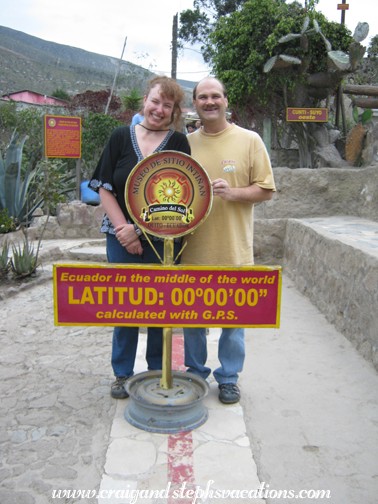 After leaving Archidona, we drove 4 hours to Coca, a dingy oil-industry city which serves as a gateway to the Ecuadorian Amazon basin. After stopping for gas and picking up the 16-year-old Huaorani named Ñame who would be accompanying us, we continued on for approximately another hour and a half to where we would put our kayaks into the Shiripuno River. We would be happy to be leaving the oil industry encampments and pipelines behind and heading into the (hopefully) pristine jungle.
While Arturo, Felipe, and Ñame prepared the kayaks, they gave us sandwiches and Gatorade. It was the hottest time of the day and the sun was scorching. Luckily, by the time we actually got into our kayaks around 2:30, it was later in the afternoon and the sun wasn´t as strong. Craig and I were in a two-man kayak, Arturo and Ñame were in singles, and Felipe was in a rubber-pontooned catamaran carrying all the supplies we would need for the next 3 days on the river. Arturo usually drives the supply boat, but he had been up since the middle of the night traveling from Quito to pick us up in Archidona, so Felipe wanted to give him a break. The water level of the Shiripuno was low as it hadn´t been raining much lately. The river itself was probably only about 30-40 feet wide and there were a lot of trees which had fallen into it which we needed to navigate around. We only got stuck once on a sandbar near the beginning of the paddle, but Ñame was right there to give us a push and get us on our way once again. After a pleasant few hours of paddling, we turned one of the many bends in the river and saw a traditional Huaorani house and a woman at the river. It was like something out of TV, and it seemed to come out of nowhere. Several minutes later we arrived at a nice beach where we would set up camp. Although to us it seemed that we had gotten a late start, Felipe told us that this is where they usually camp, and that we had already actually paddled 21.5 km.
Ñame and Arturo immediately set up the mess tent and started to cook a nice dinner for us. As Felipe said, 'No spaghettis! Arturo cooks real food. And a lot of it. You won´t be hungry with Arturo around!' Felipe helped us to set up our tent and he also set up a bathroom tent. It was quite a luxurious camp. The three of them worked like a well-oiled machine. You could tell they had done this part of the trip many times before and it went like clockwork. It got dark only minutes after camp was complete and dinner preparation was already underway. The timing couldn´t have been better, and we marveled at how well it all seemed to flow. Soon some young Huaorani boys showed up. Felipe said, 'They live around the bend. They smell the food. There will be more soon.' We all shared Arturo´s delicious multi-course meal of freshly popped popcorn, vegetable soup, tilapia fillets, French fries, and rice. We even had figs and cheese for dessert. We ate like kings, and we couldn't possibly eat it all. We gave the rest to the Huaorani boys, who gobbled it up happily. We chatted at the table in the mess tent, enjoying our first night of camping on the river, and went to bed at 10 pm in our nice comfortable tent with ThermaRest camping mattresses.
When we woke up in the morning after a terrific night´s sleep, Ñame´s father Karuway and some younger Huaorani kids from the village were chatting with Arturo, Felipe, and Ñame. Arturo and Ñame cooked breakfast of scrambled eggs, ham, bread, juice, and fresh coffee, and we all ate our fill. We saw tracks in the sand where turtles had nested overnight. We broke down camp (well, mostly Craig and I just stayed out of the way and watched them do their magic) and hit the water at 9 am. Arturo was in the supply boat today, and several Huaorani kids rode the large pontoons downstream for a while, and a couple also stowed away aboard Felipe´s kayak. They were having a great time and it was fun to watch. The children were showing off their balancing ability by standing up on the pontoons, but Arturo, ever a jokester, would shift the boat to make them fall into the water. We dropped them off at their little village, which Felipe said we would visit on Friday. We saw many birds again today as we paddled, and a troupe of at least 20 squirrel monkeys jumping around in the trees. Ñame and Arturo said they saw a tamarind there as well, and argued happily about which type it was. We didn't see it ourselves. Turtles would be sunning themselves on logs and would splash into the
water as we paddled into view. It was all so surreal.
Before we knew it, it was time for lunch. We pulled up at a beach (all of the beaches are really interesting as they are made up of layers of sand and fallen leaves. When you walk on them they are very spongy. There are no rocks on this river - everything is a rich brown soil which makees the river itself brown with low visibility). Arturo and Ñame set up the mess tent to protect us from the hot midday sun, and they served us ham and cheese sandwiches with all of the fixings, potato chips, watermelon, and juice. After lunch we all went for a swim in the river and Ñame regaled us with his gymnastics doing flips into the water. Arturo and Felipe had their cameras and were taking lots of pictures. We saw a bird called a night jar on this beach, and Arturo, Ñame, and Felipe saw its nest and egg. We all made sure to keep our distance so that the egg remained safe.
We got back into our kayaks, refreshed with wet clothes, and continued to paddle. The rest of the afternoon was more overcast, so we felt comfortable, although we still enjoyed the areas where trees overhung the river and provided some cool shade. Felipe said that we were paddling very well and were running early, so we didn´t need to paddle as fast. Ñame pulled up at a beach to try to capture a turtle for a photo, but it went into the water with a loud SPLASH! Ñame giggled and got back into his kayak. Maybe next time.
At 3 o´clock we reached our campsite for tonight after having paddled 19 km. We pulled up at a muddy shore (the kind of silty mud you would pay a lot for at a spa) and climbed a steep bank to a small jungle clearing. Felipe told us that it was an abandoned illegal logging camp which they had now taken over. They use it as their second camp a lot on this trip, so that clients get both a beach and jungle camping experience. There were ants everywhere and they occasionally bit us, so we quickly got out the bug spray. Ñame showed his prowess with a machete by clearing some of the underbrush. Ñame, Arturo, and Felipe set up our tent and then set up the mess tent. Felipe dug a latrine and broke the shovel in the process. Because of the dense jungle, we didn't need the tent this time and instead enjoyed the open air. Ñame served us some tamarind juice. Felipe wanted to get an early start tomorrow morning (5 am) and asked if that was ok wth us. We readily agreed, so we had an early dinner. Arturo and Ñame had prepared potato soup with cheese and avocado, beans, beef, salad, chicken, potato, and lemonade. We passed on dessert as we were all so stuffed, and we pretty much went to bed as soon as it got dark. They did the dishes and Felipe dumped soapy water around our tent as a negative signal to try to minimize the ants. We wondered how effective it would be as we settled down to sleep. We could hear the guys loading most of the stuff onto the supply boat to make things easier for the morning.
We woke up at 4:30 realizing happily that there wasn´t a single ant in the tent. We broke down our tent in pure darkness and loaded the kayaks, and were on the water by 5:30. It was eerie to try to navigate by headlamp, but soon the sky lightened. Many ants had stowed away on our kayak and we made a game of removing them while alternating paddling duties. Felipe spotted a cayman and we paddled right up next to it. It was about three feet long. Ñame wanted to catch it for a photo, but the moment he stepped into the water it disappeared beneath the water´s surface. Ñame did catch a couple of turtles this morning, and we got photos before releasing them. One had unfortunately been injured, no doubt by a boat propeller. We were happy to be on paddle power.
Once daylight was fully established, we stopped at a beach for a leisurely breakfast of granola, blackberry yogurt, pancakes, and juice. We then got back onto the sinuous river and paddled some more, seeing many different birds, trees, butterflies, turtles, etc. Felipe showed us a place to pull over to get a view of a huge ceiba tree. We parked the kayaks and climbed up the muddy bank. The tree was absolutely breathtaking. Felipe said it is likely between 400 and 600 years old. Its scale was unbelievable. Arturo continued on to the next beach to set up lunch.
When we arrived, Arturo had a sandwich bar set up with tuna and lunch meats, cheese, lettuce, tomato, turkey, plaintain chips, cantaloupe, and the honey cake which was supposed to have been last night´s dessert. At this point we all held our bellies, having eaten too much, but it was such a great spread!
Then we paddled the final stretch of this epic 31 km day. Craig and I were ahead of the others and paddled along enjoying the solitude of every bend of the river. We finally arrived at the dock of the Shiripuno River at 20 past 4 in the afternoon. The timing was perfect as there was still enough light to get settled in to our room which would have no electricity. We waited for the others to arrive so that we could begin our stay at the Shiripuno Lodge...