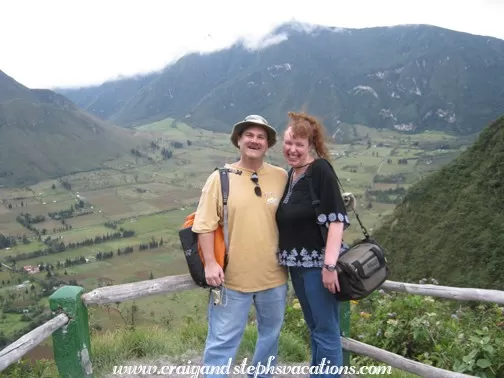 On Saturday morning, we had another nice breakfast at Casa Aliso, and then were picked up by our guide, Felipe. We had met him over dinner in the Galapagos two years ago, and it was nice to see him again. He drove us for approximately 2 hours to Otavalo, where their Saturday market was being held. Streets were closed off to make room for more market stalls. We wandered around for a few hours and bought a few items. Although there were a lot of other tourists present, there were plenty of interesting things to see, and many locals as well.
Then we went to the Runa Tupari Tours office, where we were introduced to Antonio, a Kichwa man from the local community of Morochos. We would be spending the next five nights in the guest house at his family´s farm. Antonio took us to lunch at a restaurant called Inty Huasi. We learned that he is the director of a traditional band and that he plays many instruments.
After lunch we drove to San Rafael, a nearby community on lake San Pablo. Tortora reeds grow in the lake and are used by local artisans to create mats, baskets, and other items. We learned how the reeds are harvested and processed. Then we went to a workshop to see a woman weaving mats from the reeds, using a rock to flatten them out.
Next we went to a musical instrument workshop in Peguche. A woman demonstrated how to create a zampoña (pan flute) out of reeds. She also showed us other traditional Andean instruments such as flutes and tarkas, and small guitars made from armadillo shells. Antonio demonstrated how these instruments were played.
Our last stop was Carabuela, where we visited a master weaver named Jose Carlos de la Torre. He and his wife demonstrated how they process raw wool and spin it into thread. He then weaves it using a traditional backstrap loom. It was a very interesting demonstration and he did beautiful work. We purchased a beautiful hand-woven wool scarf for a very affordable price.
Then we headed through towns such as Cotacachi and Quiroga to the more rural Morochos. We arrived at Antonio´s house, where we met his wife Rosa, daughter Aida, and 2 year old granddaughter Kehli (often called by her middle name, Sisa, which means flower in Kichwa). They showed us to our room, in a small 2 apartment guest house which we shared with Felipe. It was lovely, and had a private bathroom and fireplace.
Their property was a picturesque small farm, with gardens, chickens, two cows, a kitten, and a dog named Max. Kehli was adorable and kept us all laughing, even when the language barrier created occasional quiet moments. The surroundings were gorgeous, with views of mountains in all directions.
Antonio and his band, Chaski Ñan, were practicing for a performance tonight. We enjoyed watching them play, as Antonio changed from instrument to instrument. He told us that his favorite to play is the violin, yet he was very adept at everything he picked up, including flute, zampoña, and guitar.
Rosa and Aida prepared the first of many delicious dinners for us: potato soup, chicken, rice, beets, and melloco. Anthony Bourdain was right; the soups and stews of Ecuador are outstanding. It is early to bed and early to rise in this land with 12 hours of daylight.
The next day was our 12th wedding anniversary, and we would spend it in typical fashion (for us, anyway!) After a nice breakfast with the family, we went on a hike with Felipe and Antonio to the nearby volcano Fuya Fuya. The hike started out at Lake Mojanda at approximately 3700 meters in altitude. Since we live at sea level, this kind of altitude was a switch for us, and our breathing was quite labored. We found it difficult to catch our breath as we hiked up the sometimes steep and muddy slopes. It was a beautiful hike with clouds coming and going throughout the morning. We saw lots of interesting plants and flowers, some of which have medicinal properties and are used by the Kichwa people. When we finally made it to the summit, we were at 4265 meters (almost 14,000 feet)!! We were feeling quite impressed with ourselves.
It started to rain on the way down, but luckily we had already descended the steepest parts of the trail, which were becoming more and more muddy. The incredibly fertile soil here was black and very slippery. We drove back to Otavalo and had another lunch at Inty Huasi before returning to Antonio´s house. We had a fun afternoon hanging out with Rosa, Aida, and Kehli. After another fantastic dinner, Kehli kept herself (and us) entertained by playing with a small beetle. We couldn´t imagine kids at home being occupied for hours by a simple insect.
Monday was a low key day, which was nice after our long hike yesterday. Rosa and Kehli took us for a walk around Morochos. It is a very friendly and well-organized community of about 900 Kichwa inhabitants. We went to their community center, where we saw an early childhood program, as well as women weaving with the wool from the communally owned alpacas.
In the afternoon we went with Rosa and Kehli to the nearby town of Cotacachi, known for its leather work. We browsed in the stores and Craig bought a very affordable belt and wallet. On the drive back, Kehli was very intrigued by Felipe shifting gears, and tried (unsuccessfully) to shift the truck into 4wd a couple of times.
When we got back to the house, we showed the family some photos that we had brought from home. This really helped to break the ice, and got us all chatting. Kehli especially liked the picture of our cat Brownie, and she hugged and kissed the photo. Photos of us with mountain gorillas were also a big hit. After laughing and joking, we all started to feel like one family. We had another lovely dinner and Felipe talked tourism with Antonio.
The next day, Rosa and Kehli took us to see many community projects. We went to a plant where local farmers bring fruits such as goldenberries, blackberries, sambo, and peppers to be dehydrated or turned into jellies or paste. After that, we went to the women´s center where midwives are available to help pregnant women and to diagnose maladies by reading guinea pig entrails. There is also a computer lab here. The purpose of the center is to keep women (from about 35 different communities) educated in traditional ways as well as introducing them to new technologies. Then we went to an ethnobotanical garden, where we were educated about many medicinal plants. Local people can obtain seeds here to plant in their own gardens, and Rosa told us that many of her plants had originated here. We were really getting a feel for how well-organized the communities are, and how everyone helps one another.
We had another lovely home cooked meal for lunch and then went for a drive with Felipe, Rosa, Aida, Kehli, Delia and Celestina (cousins from next door) and their young brother. We drove up a dirt road to where we could see the communal alpacas high in the mountains above us. While there we saw two rainbows. Aida explained that both of these rainbows were feminine in Kichwa belief, because they weren´t very bright and didn´t touch the ground. The late afternoon sunlight was gorgeous, and we took many photos.
After Antonio got home, we (Felipe, Rosa, Antonio, Kehli, and Delia) went to see the local shaman, Taita Manuel Flores. He lived in a very traditional home of adobe walls with a straw roof. We were led into a dark room and sat on wooden benches. We brought offerings of medicinal plants, cigarettes, and a candle, and the 88 year old shaman demonstrated how a traditional healing would be done. He admitted that he is now too old to do healings on a regular basis, as it takes too much out of him. But he would demonstrate how it is done (the community is concerned as no one has yet been fully trained as a successor). The shaman chain smoked the cigarettes and took mouthfuls of liquor which he then spit on rocks, candles, and the medicinal plants. We had to rub the wax from an unlit candle onto our hands and heads, and he chanted a mixture of traditional Kichwa and Catholic incantations. Craig was mesmerized. Antonio demonstrated how they would pat Kehli down with the medicinal plants if she were sick. At the end of the demonstration, the shaman asked us to each hold a rock and to rub it over our hands and heads. It was an amazing experience, truly authentic.
When we got home from this adventure, Aida had a lovely dinner waiting for us. When we were walking back to our rooms with Felipe, we stopped to look at the sky and saw two shooting stars while stargazing. It was the perfect end to a wonderful day.
On Wednesday we had breakfast at the house, and then went with Felipe and Antonio to hike around Lake Cuicocha (also called the Guinea Pig Lake or Lake of the Gods). It is a very sacred lake to the Kichwa people. We could see why. It was an absolutely stunning crater lake with incredibly blue water and two green islands in the middle. It was a beautifully sunny day with no rain and white puffy clouds that occasionally blocked the intense equatorial sun. We hiked with Antonio while Felipe drove the car to pick us up at the end of the trail. Antonio showed us a lot of medicinal plants along the route, and we sampled delicious wild blueberries and blackberries. The trail wound around the crater, up and down, and we occasionally had glimpses of the snow-covered summit of Cotacachi. Felipe met up with us partway through the hike, but we decided that we wanted to continue the hike to its conclusion. It was a good decision, as there were some stunning views and a very interesting trail still to be enjoyed.We could see the communal alpacas (which yesterday were way above us) now well below us.
We went back to the house and had a lovely lunch. As we would need to leave tomorrow morning (5 days passed too quickly!), we had some packing to do in the afternoon. Antonio played some music and Kehli danced in circles with her baby doll (¨wah wah¨in Kichwa). We ate a delicious dinner and the family surprised us with a going-away cake. It was a very special evening. We enjoyed each other´s company over glasses of Pilsener beer and peach wine, amazed at how close we had become over a mere few days.
This morning (Thursday) we awoke to find that our truck was dead. Felipe tried to fix it but it seemed to be a physically broken alternator. While we waited for a flatbed tow truck, we had some additional precious time to spend with the family. The tow truck caused quite a stir in the neighborhood and drew a large crowd of adults, children, goats, and cows.
A taxi showed up soon afterwards and Omar drove us to Quito, back to Casa Aliso. We got settled into our room and then had a nice late lunch next door at Clancy´s. And that pretty much brings you up to date on what's been going on with us in Ecuador.
Tomorrow we head out to visit the Waira Churi (Wind Dancer) tribe for three nights, and then we kayak into the jungle where we will camp and meet the Huaorani tribe and finally spend a few days at the Shiripuno Lodge. We might be able to blog when we are back in Quito before going home, but we make no promises.
Unfortunately, we can´t upload pictures from here, but we will definitely add a few when we get home. As you can imagine, we´ve taken tons.