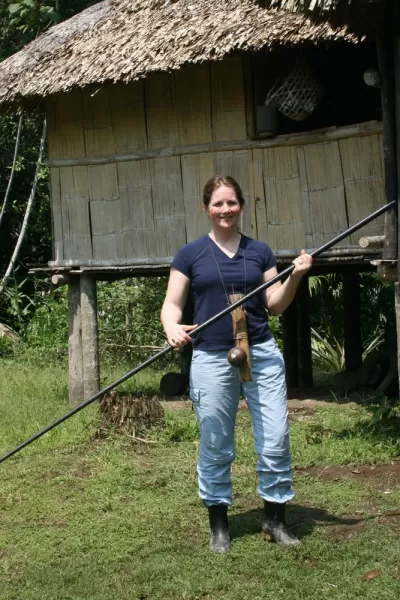 Since the rain had decided to settle in for the morning, we were unable to visit the Macaw salt lick (the beautiful parrots evidentially don't arrive when it is raining) and so explored La Selva's Butterfly farm instead. The Amazon is home to 1,800 species of butterflies and La Selva has done its best to create a self-sufficient farm for research and resale of a few of the species. I was very interested in the process they've developed to sweep leaves for the eggs and then to nurture each stage of the butterfly's life cycle. The variation of cocoon colors, sizes, and shapes was overwhelming - as was the corresponding variation in the adult butterflies.
After lunch, we visited Garzacocha Lake, better known as Lake Hyacinth since it is almost completely choked by these flourishing water plants. The canoe trip was serene, and as the birds mesmerized most of my fellow travelers, I spent my time photographing the many butterflies and dragonflies enjoying the success of the blooming hyacinth plants. Of course I had to pause in my obsession of bug-watching long enough to watch the monkeys in the trees, the green parrots that curiously viewed us from overhead, and to be amazed at the Common Potoo, a brown bird who had set up lodging on the very top of a dead palm tree. Talk about camouflage techniques! Even when editing the film, I had to remember what I had been photographing as the bird, from most angles, looks exactly like an extension of the tree! But alas the peace ended and we returned for dinner.
After dinner, I wanted to try my fishing skill with the local piranha.