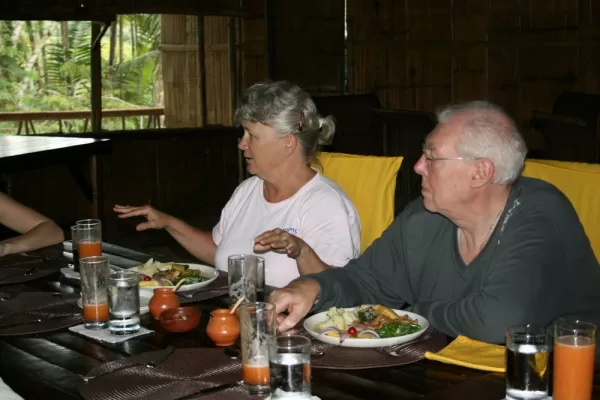 Up at 6:45AM. Compared to my last few days, this is sleeping in!! Today we took the 'Volcano Rock' walk which covered terrain a bit more rugged than I'd planned on. Wearing my favorite pair of Brasilian Havaianas flip flops, I found a 2" thorn had penetrated straight through them! Fortunately, I didn't put full pressure on my foot before I realized the mishap, and was able to come away with a minor (and embarrassing) mishap! I'm going back to real shoes this afternoon.
The landscape was incredible, however, and well worth the dangers I'd passed through.
I saw large pieces of white coral in the middle of the Island - remnants from when the sea covered over the top. Land iguanas, Darwin finches, Holy Trees, huge bumble bees!, and my personal favorite - the lava lizard - were plentiful at this stop.
Enough exploration - it was time to go back to the beach for some snorkeling!!
After lunch, we headed out for Espinosa Point, where literally 100s of sea iguanas and sea lions 'litter' the beach! Sea turtles are swimming next to our zodiac and we even saw a Galapagos penguin - the dancer of the sea! And it was here that I saw my 1st Cormorant - drying their feather-less wings in the slight sea breeze. Too cool! Pelicans also graced me with their presence and I saw my only snake of the trip - a very small and skinny variety. It still would have sent my Mom screaming, had she been with me.
For dinner the crew prepared an outdoor barbecue and the day was finished.