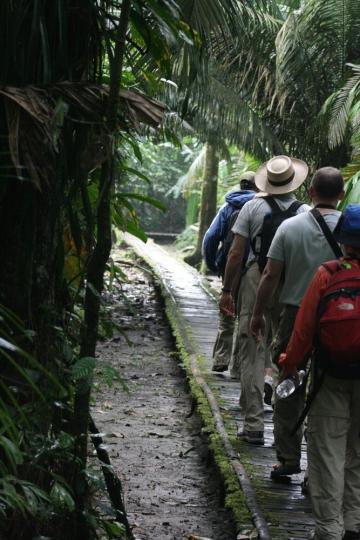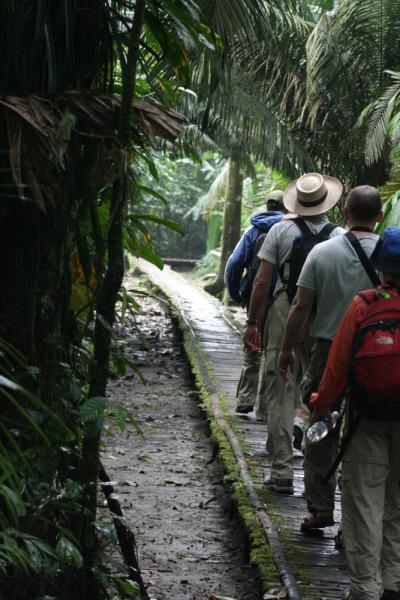 The wake up call was a sad event today, but I was up with my suitcase packed and ready for the porter. And then it was off to explore Bachas Beach on Santa Cruz. Here we walked past a salt lagoon where rumor had it pink flamingos frequent. We only had a confirmed feather sighting - maybe next trip! Past the salt lagoon we climbed a short distance for a breathtaking view of the blue ocean, brown and green cactus, and the white of the horizon. Along the way we saw Galapagos fly catcher birds, ground finches, and other indigenous birds.
Our walk circled us around part of the Island and we were back to the beach. Sea turtles were finishing covering their nests and it was an incredible sight! The fact that blue herons were searching for eggs not properly covered was disconcerting, but this was nature at work. Normally the turtles dig and cover their nests at night. We didn't know what had delayed these great creatures, but chances were that many of their eggs would soon be devoured by the herons, and would not have the opportunity to transform into young sea turtles.
I arrived back to Quito and Luis was prompt - was there any doubt? He took me to a local grocery store so I could buy some South American food stuffs (dry goods, of course) and there was a giant Christmas tree in the lobby completely decorated with Oreo Cookie decorations! Commercialism strikes Ecuador, absurd!
Tomorrow I fly home at 6:00am. The amazing journey has ended.