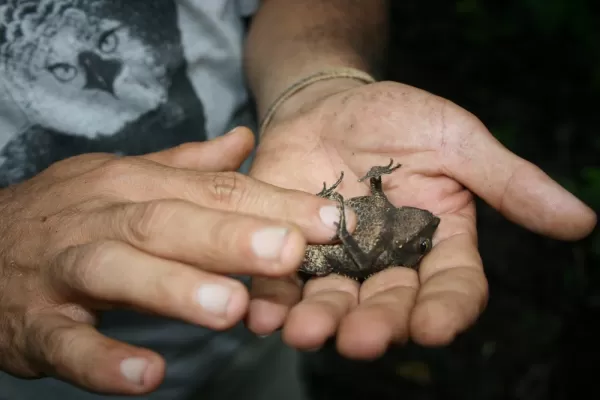 I awoke early and enjoyed a delightful breakfast in the hotel restaurant! Brownie the bunny (their resident pet) kept me company in the small courtyard as birds came and went, and left their song in the air.
Luis arrived right on time and we were off to the airport for my flight to Coca. He was such a delightful guide - knowledgeable about all areas of his city and he explained that he had attended college for several years to obtain a degree in tourism and history, so that one day he could become a teacher.
The airport lounge was very pleasant with coffee, tea, juices, fruit, cheese, bread, and even free newspapers. Jorge, our guide, met us all and soon we left for the short 30-minute flight out of the Valley City of Quito and across the country of Ecuador. The Amazon soon came into view and wove its way under us as we finished the air portion of our trip.
Upon arrival, we had time for a quick beverage and then were off on the next adventure - a long boat ride. We experienced a common Amazon downpour along the way, but with thick rain ponchos provided, we all survived easily. A sack lunch was provided on the boat and we arrived in good spirits. A short 15 to 20 minute walk brought us from the banks of the Amazon to a black water lagoon; a quick small canoe ride finished the trip and deposited us at La Selva EcoLodge.
It was a memorable trip and upon arrival there was a welcoming reception complete with delicious snacks and mango cocktails for all. The presentation was amazing but just a glimpse of what was to come.