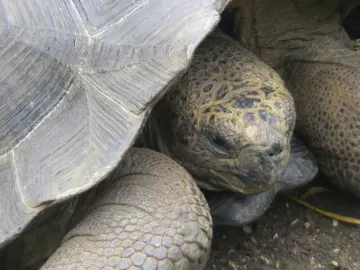 This is our first day with nursing seals at the door step of our hotel. The action starts after breakfast and we continue at a great pace of activity until we return to Quito. Today it is hiking with tortoises. They are all ages and free roaming. It turns out they are not very restful. One large tortoise was aggressively charging and nipping at an equally large tortoise.
There are no doubts by now. The food is fresh and plentiful three times a day. We have soup with fresh fish often. Meals are one of my favorite times of day and I am never disappointed.
Just when you think the day might be over- we head out in kayaks, view birds and a beautiful sunset. But we are also advised to jump in the ocean and view the wildlife close up. This is beyond my imagination - we are swimming with sea lions! They are playful and seem to be laughing at us. They are very close.