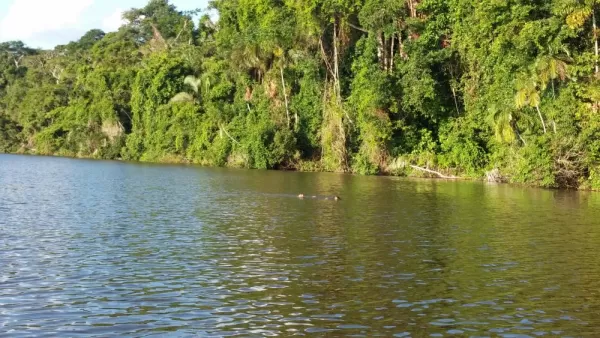 Our second day started with a good breakfast. I dont remember what fresh joice we had that day but i do remember that each day it was a new one. It might've been passion fruit juice that day.
After breakfast it was time to walk around the forrest looking for various monkeys that live there. We already saw squirrel monkeys and howler monkeys on the trail that brought us to the lodge on the first day. And today we were looking for 3 remaining types of monkeys.
Unfortunately although our guide thought that he heard capuchin monkey, we were not able to find them that time. We did see howler monkeys up close again.
After few hours of hiking around rainforest and enjoying the nature, we returned back to the lodge for our lunch and a bit of rest.
The second part of the day we spent on the lake looking for Giant Otters and Black Caymans.
As we came down to the pier to get into our boat, this was the first time we saw a glimpse of Coco, the neighborhood friendly Black Cayman
After a bit of paddling around the beautiful lake, we saw a family of Giant Otters fishing. Unfortunately they kept their distance from our boat.
We watched them for a while as they were getting fish for their pup.
As the sun started to set, we moved to the other side of the lake. After watching beautiful sunset in the middle of the lake in the middle of the rainforest, we started looking for Black Caymans. We moved along the coast in a pitch black, using our flashlight to look for the reflections from Cayman's eyes.
It was not hard to find a Cayman.. (it was much harder to take a good picture of it in the dark) But we got too close. We got so close in fact that i think we might've spooked it. It jerked, hit our boat and went into the water. It almost flipped our boat (which would not have been good). But at the end, we were only slightly wet from all the water it splashed into our boat.
After this interesting encountere, we returned back into the lodge for yet another nice dinner.