The best time to visit
Antarctica
is between
November and March
– these are the months when you can enjoy up to 24 hours of daylight, sea ice melts sufficiently to allow expedition cruises, temperatures are at their highest, and never drop below freezing, and wildlife is most active.
However, within this time span, each month offers unique attractions, including penguin chicks, seal pups, mating season, icescapes, and the possibility to cross the Antarctic Circle. Late-season Antarctica cruises are frequently less expensive, but many of the animals have already migrated to the open sea. This is the ideal time of year to go humpback whale watching.
Asked if the
Drake passage
is calmer at any time during the season, the answer is no. Throughout the Antarctica summer, the Drake Passage can be rough. Despite this, the Passage is more often than not tranquil.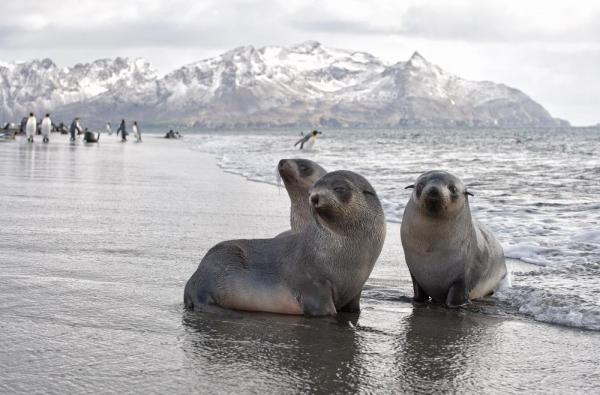 Antarctica in November
November (late Austral spring/early Austral summer) is undoubtedly the most adventurous time of year to visit the
Peninsula
. Active travelers interested in
skiing, snowboarding, or snowshoeing
may still find availability, as well as
kayaking, mountaineering, and camping
. Temperatures tend to be colder and polar ice is still breaking up, restricting access to some areas. However, the cold temperatures also offer the best time to view the most
impressive icescapes, pristine snow,
and breathtaking scenery in its most undisturbed form.
Whales are typically not as plentiful as later in the season, though you can still commonly see them. Fur seals and penguins are quite active, and it is a great time to observe the penguins squabbling over pebbles for their nests. By the end of November, you'll see lots of
nests with eggs
!
November also sees the sky teeming with Albatrosses, Elephant seals courting on
South Georgia
Island, and spring wildflowers blooming on the
Falkland Islands
in Antarctica.
Emperor penguins and chicks
December to Early February in Antarctica
December and January are the months with the most sunlight (up to 20 hours a day), and daily temperatures are at their warmest. In January, temperatures at the Peninsula average 34 Fahrenheit.
Penguins begin hatching around this time of year, and wildlife, particularly penguin chicks, is most abundant.
Since they coincide with school breaks, these months are best for family cruises to Antarctica because of the long days and warm temperatures, as well as an increase in penguin egg hatching as the month goes on.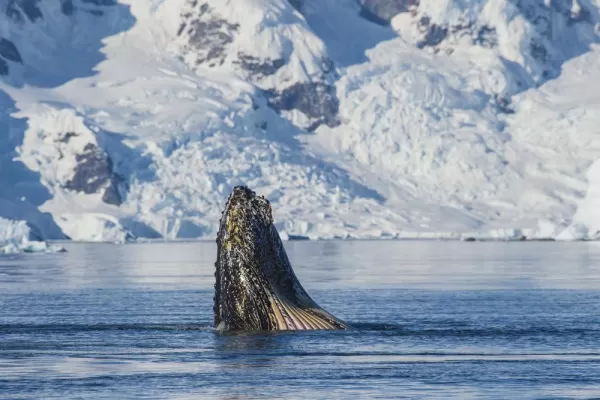 Mid-February and March
Late summer in Antarctica, February, and early March is the
best time to see whales
in Antarctica. However, you are likely to see fewer penguins as many will have already returned out to sea. By March, the chicks are quite large, and they start to fledge. Weather wise, temperatures are beginning to drop as the season starts to change. Daily highs average roughly 29 Fahrenheit on the Peninsula. There tend to be fewer vessels operating at this time, which means you won't have to compete with other cruise ships for landings. This time of year you are also likely to have better access to areas further south as polar ice melts. You will rarely walk on snow during this time; expect rocky and muddy landings.
Get in touch with our Antarctica specialists
for expert help in planning the Antarctica cruise of a lifetime!