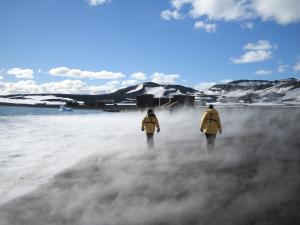 Antarctica, the Great White Continent, a land so distant from everyday life, so filled with myth, heroes, adventure, and tragedy that even today a journey to the mere edge of this continent is a expedition into the unknown. After ten years of working in the adventure travel industry and bringing thousands of friends, family and clients to the far edges of Latin America - to such sites as Bolivia's Salt Desert, Huarani tribal territory, Belize's subterranean caves, and more - the edges of Latin America weren't so sharp and unknown to me anymore. I decided it was time to journey to the edges of my known world once again, and Antarctica would provide that first edge.
So, I asked Jonathan Brunger, Adventure Life's resident Antarctica expert, "what is the most amazing Antarctica trip we offer? I want to do it." He answered without thinking - the
Kapitan Khlebnikov's
Snow Hill trip. The Khlebnikov is the last ice breaker still working in the tourism industry - the few others in the world are too busy exploring the arctic for oil and staking national claims for Russia, Canada, the USA and others. The Khlebnikov's glory days of taking visitors to Antarctica are numbered too with the recent announcement that 2012 will be its last voyage open to travelers.
Ice-breaker travel is completely different than visiting on an ice-strengthened ship. Someone recently described the difference between an ice-breaker and an ice-strengthened ship as the difference between a MAC truck and a pickup - completely different technology, in addition to the shear size and strength difference! Less than two weeks ago I heard a report that the ship was stuck, yes stuck, in the ice for 3 days! It's not a Shackleton story, but being aboard one of the world's strongest ships and being stuck in the ice is about as close as one can get in today's modern age.
More on the Khlebnikov
My expedition to Antarctica is a 20 day voyage, including such landings as South Georgia, South Shetlands, Snow Hill Island, South Orkneys, and the Falklands. I'll witness many species of penguins, elephant seals, whales, albatrosses, fantastic glaciers and icebergs, and more. But what am I looking forward to most? We'll be crossing the Drake Passage, known for having the most severe weather on the planet. The ships description of this passage says, "...do not be disappointed if this crossing of the Drake Passage is smooth sailing." What!? When I read this, I thought, oh, they are speaking directly to me! If we don't get at least one storm with 60 foot waves, I probably will be disappointed. ...although, I imagine that there will be many passengers aboard that will be happy with smooth seas.
I'm also looking forward to the complete disconnect from my very connected and often busy world. With only satellite phone/email, I'll be limiting my connection to a maximum of one daily outbound email during that 20 days. I've told the Adventure Life office to not let the building burn down! Seriously, I'm so grateful to the incredible team at Adventure Life. Each one is super capable and the years of experience and talent they bring to their jobs is what is enabling me to take this trip. Thanks to you guys!
My next correspondence will be from Ushuaia, Argentina in 5 days, just before boarding the Khlebnikov. Please post any questions before then, and I'll try to respond accordingly. Saludos!
PS Check out Laurie Allread's
journal
and
photo album
from this same trip last year!