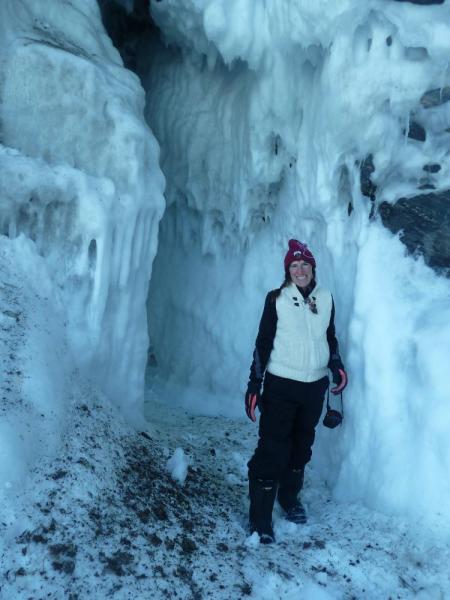 Adventure Life Trip Planner, Mary, has unique plans for her upcoming birthday. Despite a cake, and a song, and well-wishes, this celebration will definitely be like none other she has ever experienced. Her 40th year will greet her on the Great White Continent of
Antarctica
! This might sound too good to be true, but it gets even better. Mary will be joined by her son, Matthew, who will also be celebrating his 9th birthday during the trip!
Sharing travel experiences in honor of special occasions such as birthdays, anniversaries, or holidays is becoming a trend. In light of the growing popularity of celebration trips, we thought we would ask Mary some questions about her special adventure.
1. Have you or Matthew ever spent a birthday on a trip before? If so, where in the world were you?
I spent my 23rd birthday in Germany as part of an around the world year-long fellowship. One of my friends there took the train down to Munich to meet me for the day!
2. How do you plan on spending the actual special day? Where will you be exactly, and what activities will you be doing?
We arrive to Antarctica on my birthday, Nov 30th. On that day, we will hopefully make our first landing on the continent, taking zodiacs ashore to see the penguin colonies. We'll be hugging the Antarctic coast so I'm really hoping to spot some whales! On my son's 9th birthday, we will depart Antarctica and set sail back across the Drake Passage. Our birthdays will be a greeting and farewell to this incredible continent - the last one on my list and Matthew's 4th continent!

3. What do you think your friends' response will be when you tell them you are going to Antarctica for your birthday?
Good question. They probably think I'm a little odd. Most of my friends are a bit more homebodies than I am. They take vacation days to relax at home while I figure it's a waste of time off if I'm not traveling somewhere. Several have already said, why would you want to go to Antarctica? I think I changed some of their minds when I told them about the whales there....

4. What are you looking most forward to about Antarctica?
For me, it's all about the wildlife. One of my colleagues saw two blue whales on her trip. That would be the ultimate experience for me - if we could see a blue whale. If not, any whale sightings are a treat!

5. What is Matthew looking forward to most about Antarctica?
The penguins! Last year they did a penguin project in class. Each student had to research a penguin, make a model of that penguin, and present what they had learned in a "Penguin Parade" attended by the whole school and parents. His penguin was the macaroni penguin so we'd love to get a picture of him with "his" penguin.

6. Should you have cake or ICE cream to celebrate?
Ha ha... great question! When I traveled to the Arctic, the staff made ice cream cake using ice from the nearby iceberg to chill the cake. I think ice cream cake may be the best way to go!

7. If you could see any Antarctic wildlife on your actual birthday, what animal would that be?
BLUE WHALE- oh yeah! That would be the best gift!!

8. What other places would you like to celebrate a birthday in the future?
Well, I've already told my husband that I want to raft the Zambezi River for my 50th birthday. He's worried that I will get trampled by a hippo. I promised I would wait until when the kids are a bit older in case anything happened to me!

Have you ever celebrated an occasion with travel? Let us know your story, or contact us to find out the perfect destination for
YOUR next celebration
.