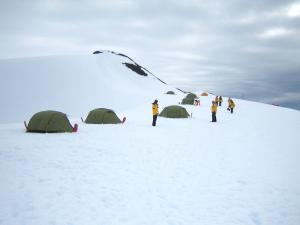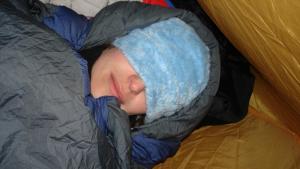 More and more, an overnight
camping trip on Antarctica
is becoming a popular addition to a polar adventure. The majority of expedition ships offer this optional excursion to a select number of passengers each voyage, which is definitely not for everyone... but is definitely one of those once-in-a-lifetime opportunities that hearty travelers have a hard time passing up (yours-truly included). Beyond your camping basics, here are a few other items to bring with you onshore for your overnight adventure.
An empty bladder:
There are many regulations in line to protect this precious environment, including a strict, leave-nothing-but-your-footprints-behind policy (and even footprints are regulated by amount of daily foot-traffic allowed and designated landing sites). This means any #1 and #2 must come off shore with you. Your guide will supply a port-o-potty for emergency cases only. But – empty or full – they will need to carry the port-o-potty back to the ship. No one wants to be that guy. And let's face it; you don't want to expose those delicate areas to Antarctica's elements anyway.
Sleep mask:
If you need complete darkness to catch your Z's, a sleep mask is a good option for you. Remember, during Antarctica's summers months, the sun isn't going anywhere – you'll get dusky-dark at best. Or just pull your hat down over your eyes. That works too.
Less can be more:
Your ship will supply you with a proper sleeping bag, one that is designed to withstand the winter weather. Once snuggled inside your tent and bag, don't over bundle yourself in too many layers. You'll actually prevent your body heat from warming you and your bag. Dress warm, but make sure there is space for heat to circulate in your sleeping bag. Don't sleep with your head inside your bag – your breathe with cause moisture which ultimately means cold. Tighten your bag around your head/neck to prevent heat from sneaking out. And most importantly, don't forget a hat or balaclava (a fancy face, head and neck cover).
Not-so-fancy camera:
Careful with your camera on this overnight trip. Fog is a real issue with your lens and the cold is likely to suck the life out of the battery before you can blink. Like a lot of amateur and professional photographers, I travel with my fancy and my not-so-fancy camera. In other words, the one I won't be completely heartbroken, or financially tapped, if it is damaged or destroyed and I need to be replaced. This is a trip for your not-so-fancy camera. I slept with mine -- perhaps not the coziest of sleeping companions. But this kept life in the battery and prevented fog problems.
Ear plugs:
If you are imaging a restful slumber in the ultimate quiet that only a remote location like Antarctica can bring … keep dreaming. Although camping locations vary depending on your itinerary and weather conditions, you will almost certainly be sharing the shore with a penguin rookie or two. After a few curious pecks to our tent, they sung us a squeaky lullaby all night long that I think you have to be a penguin to fully appreciate.
I admit, I loved every restless moment of it!