The best time to visit
South Georgia Island
is during the months of
November, December, and January
when the king penguin population is at its peak, whales swim in the open water, and the wandering albatrosses are in residence. South Georgia Island is also colloquially called the 'Antarctic Oasis' due to the massive number of wildlife that visit this island. Thousands of penguin chicks are found here,
making this a cruise
that results in the opportunity to see plenty of wildlife. The busy peak season in the
Antarctic
is relatively short, revolving around the ice and cold that make the region inaccessible during the austral winter.
South Georgia tours combine a few different regions in the area including the 
Antarctic Peninsula
, 
Falkland Islands
, 
South Shetland Islands
, and the South Sandwich Islands. The
high season
is during North America's winter, making taking
a trip over the holidays
a unique way to spend the break. These boat exploration trips in the company of naturalist guides and expedition teams make sure you make the most out of your time by discovering the incredible scenery and wildlife.
Climate, Weather & Average Temperature in South Georgia Island
If you are planning on visiting South Georgia Island, here is what to expect when it comes to the weather. December to February is
summertime
 when there are long days, mild temperatures, and snow is rare. The windiest month is February, followed by July and April, while the wettest month is March. June through August brings
wintertime
, with cooler temperatures, and snow is common at higher altitudes. Overall South Georgia Island experiences very cold winters and cool summers with moderate rainfall year-round.
South Georgia Island
has a polar climate with daily average maximum temperatures around 0°C (32°F) in the winter and 8°C (46.4°F) in the summer. Winter lows are usually about -5°C (23°F) and rarely below -10°C (14°F). Rainfall in South Georgia is around 1500 mm (59.1 inches).
Visit South Georgia in November
As South Georgia begins to thaw and the weather improves, the dramatic wildlife of South Georgia comes back to life in November. This coincides with the
king penguins
starting their breeding season, making this one of the best times of year to see these cute, brown fluffy chicks up close.
Seabirds and wandering albatross
also start returning in November. Some of them nest on Prion Island, which is open to humans in the early and late seasons.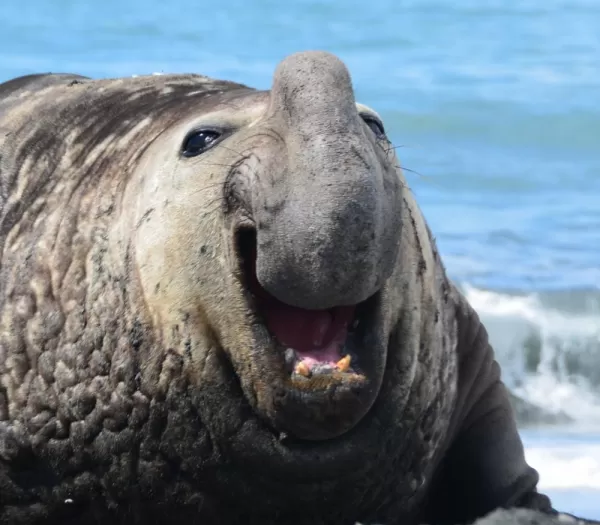 November is also the end of spring in the Southern Hemisphere when
Elephant seal pups
are a highlight as males battle for dominance on the beaches. The largest population of southern elephant seals in the world is found here during the breeding season, almost half of the world's population. These massive creatures can reach weights of almost 9,000 pounds and grow to just under 20 feet in length. If you look closely, you may be able to see an elephant seal fight, although these fights can be quite gruesome for some, they're a truly rare and amazing sight.
Macaroni penguins
have also returned to the island during November after spending months at sea and the population can reach 80,000 during peak season.
Macaroni Penguins at Cooper Bay, South Georgia Island


Visit South Georgia in December
December is the summer season where daylight sometimes lasts 24 hours. Elephant seals leave for the year while 95 percent of the world's fur seals come ashore to breed. December in South Georgia sees the
peak of the king penguin mating season
when everywhere you look the birds are crowding the landscape. 
Wandering albatrosses also lay their eggs
during this time, only breeding once every two years after finding a lifelong mate. These birds have the largest wingspan of any bird in the world, reaching almost 12 feet which allows them to spend long periods gliding in the air.
Visit South Georgia in January
January is considered one of the
best months to visit 
South Georgia Island
as the long days, slightly warmer temperatures, and the abundance of wildlife finds you amid a natural paradise. Offshore orca, humpback whales, penguin chicks in rookeries, and fur seal pups being nursed by their parents are just a few of the various wildlife highlights. 
Best Time to Visit Grytviken
Additionally, during
late-December and mid-January
is the best time to visit Grytviken, a now-abandoned whaling village. While Grytviken doesn't have the density of wildlife you find elsewhere in South Georgia, there's still a healthy population of fur seals lounging around the settlement. The king penguins have taken over over these months, adding an intriguing wildlife element to the whaling station's rustic decay.
Grytviken's official population increases from 8 to about 30 persons during the summer, including researchers, British government officials, military personnel, and even a few South Georgia Museum employees. Additionally, it is the ultimate resting place of Sir Ernest Shackleton, the greatest polar explorer.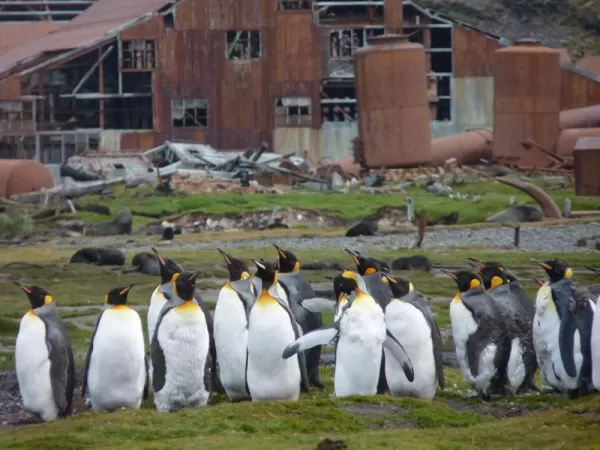 Best Time to Visit South Georgia for Wildlife Photography
October to November
is an excellent time to visit South Georgia for photography because of the spectacular spring flowers, elephant seals, fur seals, and king penguins on the island. There are also few vessels in the area, meaning your cruise may have more flexibility of exploration.
For more information about the active adventures that take you to South Georgia Island and fit within your schedule, contact one of
our travel experts
.