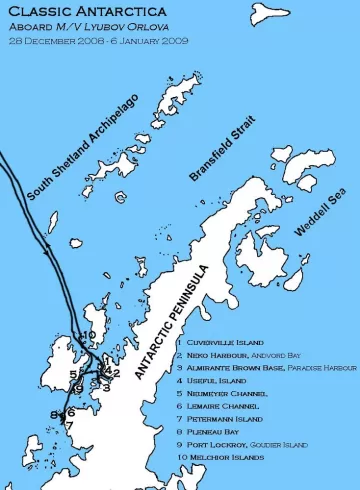 Beautiful, majestic, surreal, dreamlike, words cannot even begin to describe this unspoiled continent. Antarctica is truly "out of this world". Where else will wildlife treat humans as a curiosity instead of a threat? Penguins walk up to your camera, seals look at you and then lay back down. You can almost imagine them thinking "What, humans again, you really are boring." Albatross that follow the ship, never flapping their wings, but actually using the updrafts from waves to continue their flight. These are just a few of the wonders my son and I experienced on our recent trip.
We left Ushuaia on the evening of the 28th of December, sailed through the Drake Passage and arrived at the Antarctic Peninsula on the morning of the 31st. That early morning our first sighting of humpback whales was recorded. It was a sign that this was to be a trip to remember. During our four days at the Antarctic we were greeted with fantastic weather, sunshine every day with temperatures usually rising above freezing. As we hiked on the continent it usually meant taking off hats, gloves, and unzipping jackets due to the bright sunshine and warm weather. Sunglasses and sunscreen are a must since there is very little or no ozone to protect you from the sun's rays.
Due to the great weather we made six different stops on islands or the continent and experienced four zodiac cruises. The stops included Cuverville Island, Neko Harbour, Paradise Bay, Georges Point, Petermann Island, Pleneau Island, Port Lockroy, and the Melchiors. Each hike provided us with breathtaking scenery which pictures only begin to describe. Another highlight was the unreal silence which was only unbroken by penguins squawking at each other or chasing the skuas away from their nest. Most of the eggs had hatched so to watch mom or dad protect their young was a sight to remember. Another unusual item was the snow. From even a short distance of a few feet it was pure white, but from a close examination it was actually small ice crystals, not unlike a sno-cone. Hopefully the picture will show this. If you stepped on an untracked surface it would not be unusual to sink up to your waist. The zodiac cruises were also spectacular as we cruised past icebergs, each one a different work of art with amazing shapes and colors ranging from clear to deep blue.
As we started our return we were again greeted by three humpback whales that passed right in front of the bow of the ship. Later that day a pod of orcas passed very close to the port side of the ship.
Needless to say Antarctica will always remain as one of the highlights of our travels. I would recommend this trip to anyone who enjoys travel with a sense of adventure. It is a trip I know you will not regret.
Hopefully the following pictures will do this glorious place justice.