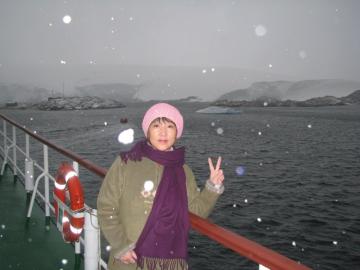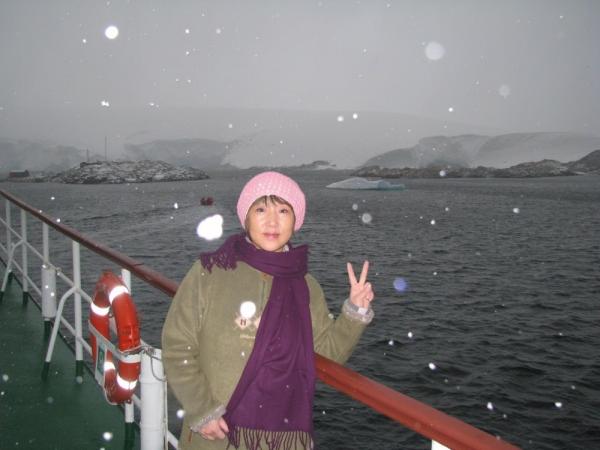 The next day, the waves got bigger. We were told that the swells were reaching 18 feet. The waves were big but I really couldn't guess how big. The swells continued relentlessly all day. As the second evening approach, the ship started to get rocked by large waves in one-two punches, i. e., a couple of large back to back swells. At lunch, one or two people got rocked completely out of their chairs and landed on the floor. The chairs are all lashed down, but they can still tilt far enough to one side or backwards to pitch the occupant out of his seat.
At dinner the second evening, the seas were the worst. I got rolled out of my chair twice as my prow facing chair tilted to the port as far as the tether allowed. I was able to land on my feet both times, but only with great difficulty. A few other folks were thrown completely out of their seats. One man whose chair faced the starboard side went out of his seat backwards and landed on the floor. Another small woman went flying out of her chair, sliding across the floor and only stopped when her head crashed into a support beam. No one was seriously hurt, however. Finally, by midday the next day, the seas began to calm as we reached the vicinity of the South Shetland Islands.
That same afternoon as we returned from a lecture on Antarctic bird life and entered our cabin, I could see through our front window an ice berg on the horizon – the first of the trip. We went outside to get a better look. We could see three or four large bergs on the starboard and as many or more on the port. We continued to pass these towers of ice for the next two hours.
In the evening, we learned that we would be making our first landing at 9:00 the next morning. The crew had already placed pairs of boots, parkas and life vests in our room for the following days adventures with the Zodiac shuttles and on shore hikes.