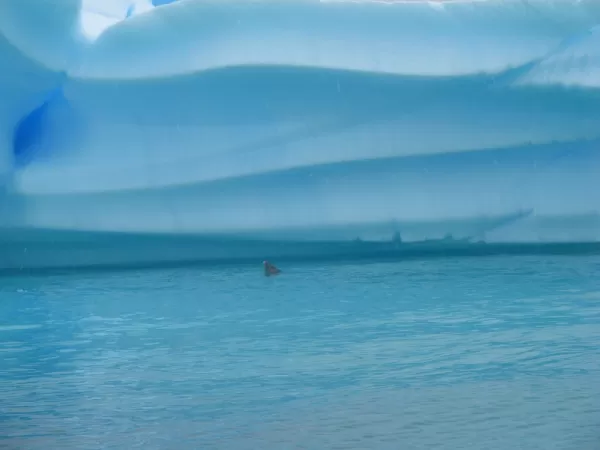 This day we arrived at our Antarctic voyage jumping off point. We didn't think there was much to see in Tierra del Fuego even though I've always loved the sound of that name. I once had an outstanding and very funny accounting instructor for a CPA exam review course. I know, I know a funny accountant is an oxymoron. Anyhow, this instructor would always say "where have you been for the last 3 years, Tierra del Fuego?" to anyone who gave a stupid answer to one of his questions. After the class got used to hearing his sarcastic question, he began to just say "Tierra del Fuego!" when he heard a stupid answer. Soon, it became just "TDF". Eventually, the class would shout TDF when it heard a stupid response and everyone would crack up. Ever since then Tierra del Fuego has had a special place in my memory.
Ushuaia may be the biggest pleasant surprise of the trip to Antarctica. Before coming here I had continuously checked the Ushuaia weather forecast and it was always the same: High 52, Low 42, cloudy with showers or rain. Plus, any photos of the town of Ushuaia that we had seen were always from a distance and primarily showing a miniscule town with drab mountains in the background with a few blotches of snow on the peaks. Even as we flew in skimming the tops of some pretty tall mountains, the earth below looked mostly treeless brown.
After checking into a crisp, modern "boutique" (whatever that is) hotel, we took a stroll along the main street. Not Bad! Some nice shops, a lot of cafes and many restaurants. A few restaurants had positioned their kitchens so that one could peer in from the street. These kitchens displayed three or four whole flayed lambs stretched on steel racks that stood on end. The racks were arranged in a circle with the top end of the racks slanted inward to form a sort of a teepee around an open pit fire. We learned that this kind of lamb barbecue is a specialty of the area. Other restaurants displayed large fish tanks with enormous 'southern' king crabs, another specialty of the area. We tried both specialties and they were excellent.